Long day's journey into night (Di qiu zui hou de ye wan 2018) is a film from last year that I didn't manage to watch until now. Thanks to Nowe Horyzonty, I now got the chance to see it. This is the second film by Gan Bi, the first being Kaili Blues (2016) The new film is also mostly set in Kaili, but this time there is no blues, but rather Kaili freestyle jazz noir, or something to that effect. This is a film that had a profound impact on me.
The slightly noirish story is full of flashbacks, or just visual trapdoors that seem to lead nowhere, but at the same time open up new horizons, and that is after all, why we go to film festivals. I won't even try to describe the plot, that seems to revolve around Hongwu Lou, who is searching for a woman who disappeared. He doesn't remember her all that well. He visits places that may provide him with an answer, or maybe just make him drift further into darkness.
And that is only the first part. With an hour or so left, he enters a cinema and puts on 3D-glasses, which is a cue for us in the audience to do the same. What follows is an hour-long tracking shot that is gorgeous beyond belief. With the exception of Godard's Adieu au langage (2014), I've never had any tolerance for 3D, but if it works like in this film, I say – bring it on! Memories and dreams seem to slip through the protagonist's fingers, and essays could be written about what the director achieves here. It's a breathtaking achievement that ranks among the most significant studies on memory and fiction.
From that lofty experience, the next film brought me swiftly back to terra firma. I was Home but (Ich war Zuhause aber…) won an award at the Berlinale festival. I saw it then and was less than excited. Since I found some merit in her earlier work, in particular, Der Traumhafte Weg (2014) I decided to give the film another chance. Schanelec is repeatedly compared to Robert Bresson. With that in mind, it's rather presumptuous to include a donkey in the opening sequence.
The rest of the film is set in Berlin. Astrid (Schanelec regular Maren Eggert) is a high strung woman, and her temperament is not aided when her son Philip disappears. We follow her through a string of episodes. She buys a used bike and is unhappy with it. Her interactions with her kids are not perfect, to say the least. Halfway through the film, there is a long dialogue between Astrid and a director, where she lashes out on him for using genuinely sick people, with actors who just play their parts. Meanwhile, Philip has returned and is now acting in a school version of Hamlet.
Most of the film is shot from a distance, and the style is more akin to Michael Haneke and Roy Andersson than Bresson. Sitting next to one of her students during the Berlinale screening, I was informed that she doesn't approve of Andersson's style of filmmaking. He suggested Akerman instead. When I snapped "She is certainly no Akerman" he got, understandably, quite irritated.
A second screening only enhanced my first impressions. This is not a film made by a formalist in control of her means, even though the director seems very confident in what she's doing. The single shots are certainly immaculately composed, but… Something is missing, and I don't necessarily mean that the separate elements have to add up to something cohesive, but there should be more to the film than this. Or maybe I was still in the mind of the Gan BI film. For a different take on the film, Neil Young's Berlinale review can be read right here. Apparently, it was the first film he saw by the director.
As I mentioned in my first festival post, one of the highlights is usually the retrospectives. Over the years there have been series covering the works of Jaques Rivette, Joao Cesar Monteiro, Ildikó Enyedi, Pedro Costa and Fred Kelemen, just to name a few. At a Q&A after a screening, Fred Kelemen was asked if he associates himself with Slow cinema, or if the expression means anything to him. His answer was a negative one. He said that he felt that many "slow films" are just boring and that one day he would make the fastest film in the world.
I thought of his answer since Albert Serra is one of the directors being presented this year, besides Olivier Assayas and Shûji Terayama. I hadn't seen that many of Serra's films before, but I was never that enthusiastic about what I saw. Now it was time to dive into his latest film, Liberté, which caused a bit of a stir in Cannes this year. The film is set in 1774. Some French libertines have assembled somewhere between Berlin and Potsdam, to meet the famous seducer and free thinker Duke of Walchen. The goal is to find a free space (mentally as well as geographically) for their thoughts and actions.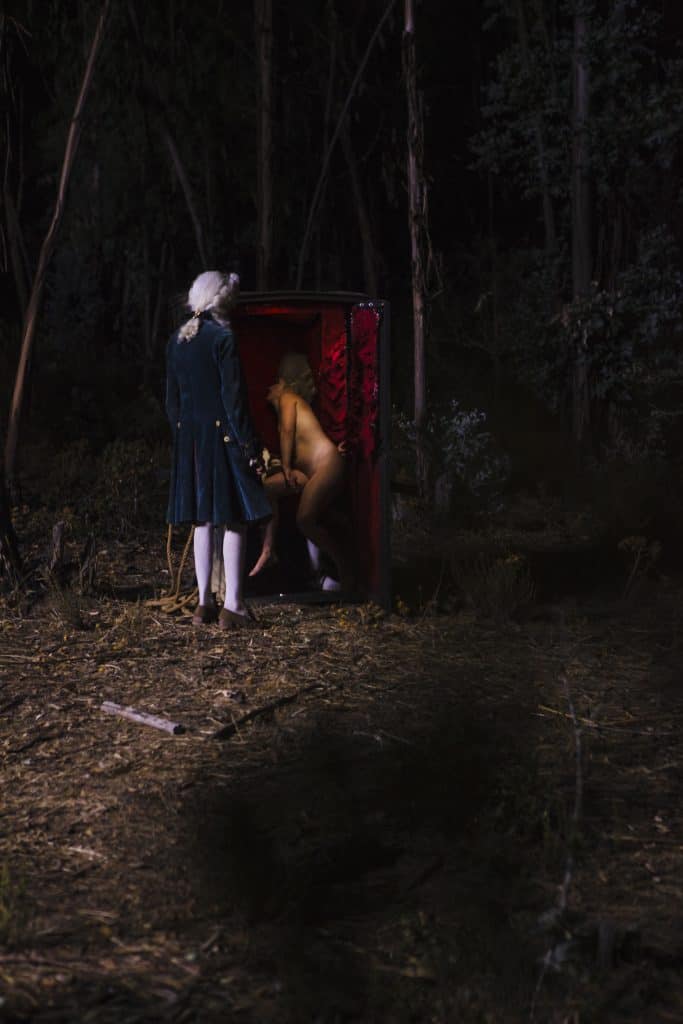 That is the "plot", and it is more or less told during the first minutes of the film. What follows is a seemingly endless array of debauchery. This is the kind of film where a critic should play it cool and say something like " I wasn't shocked, I was bored" After two hours, it's exactly what I was. The film is based on Serra's eponymous play, which was staged in Berlin. Sitting next to someone who saw that play, I was told that the film followed the play fairly well. I'm not the kind of person who uses the expression "filmed theatre" as a pejorative term, and I'm not going to start now.
Serra has dubbed himself, the best director in Spain. Be that as it may, the technical aspects of the film can not be faulted, in particular not the cinematography by Artur Tort. Still, the effect was lost on me.
The last film of the day was Diabeł by Andrzej Zuławski, but since there is a mini-retrospective of his films, as well as a film he scripted, directed by his son Valery, I will leave those films for a later post. I keep asking myself if my reception of Schanelec's and Serra's films would have been different if I hadn't seen Long day's journey into night before. That, I will never know.