Coincidence has it that two Hungarian films revolved around slaughterhouses in 2017. Ildikó Enyedi's Berlinale winner On Body and Soul (Teströl és Lélekröl) and János Szász's The Butcher, the Whore and the One-eyed Man. (A Hentes, a Kurva és a Félszemü). The films are not exactly similar, though, and the latter didn't appear in Hungarian cinemas until January 2018. You can read more about Enyedi's film here.
Szász made a name of himself already in 1994 with his second feature, Woyzeck, shot in luminous black and white by Tíbor Máthé. With the exception of The Notebook (A Nagy fûzet 2013), Máthé has lensed all of Szász's features. Now they are reunited with The Butcher, the Whore and the One-eyed Man, once again in black and white. Memories from Woyzeck creep up on you pretty early on when you see some of the camera movements. The feeling is reinforced when you follow the actual story. Other films that come to mind are Szürkület and Szenvedély by György Féher. Two great films that will be digitally restored in 2019.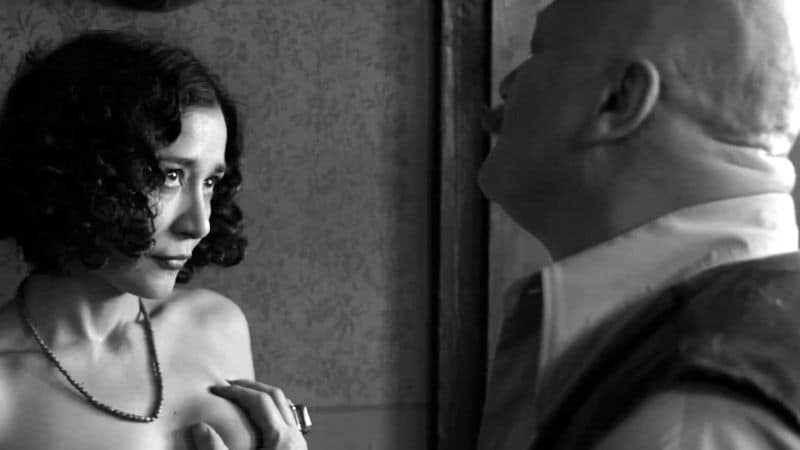 The Whore and the One-eyed Man
It is a grim tale set in post-war Hungary in the nineteen-twenties. Based on the famous case of Gusztav Léderer that occurred in 1925, it deals with people struck by the war. There was no choice but to resort to criminal acts to make ends meet (meat?). Women were forced into prostitution. Initially, we're introduced to one such woman, Mici. Her appalling reality immediately becomes apparent.
Dorka Gryllus rarely shies away from daring roles, but this might be her meatiest part yet. Mici manages to leave the brothel, even though it means that she loses all her money, and hooks up with Léderer. The latter has a plan to approach his former friend, Kodelka, who owes him money. Instead of returning the money, Kodelka offers Léderer a job in his slaughterhouse. That is the beginning of a love triangle with multiple twists and turns.
You don't need a butcher's knife to cut the film's noir atmosphere, and the images will hold your attention throughout. One might feel that the abundance of abattoir references might overstay its welcome and that the "meataphors" pile up more than necessary, in particular when a German presence enters the village. Those flaws are marginal, though, and János Szasz demonstrates, once again, that he is a director to reckon with, and even blog posts run the risk of dropping too many metaphors without fleshing them out.
The director has a new project called Michigan, which will hopefully see the the projection darkness of day soon.