Ágnes Kocsis has completed three features to date. Since her first film was released in 2006, she's hardly the most prolific director around. Nevertheless, she still stands out as one of the more interesting formalists working today. After three shorts that played in numerous festivals, it was time for her above-mentioned debut.
It's called Fresh air (Friss levegö) and is the story of Viola who works as a restroom attendant in the Budapest metro. 1The international premiere was at the Cannes film festival in the Semaine de la critique section. She lives with her teenage daughter Angéla who resents her mother's job and dreams about becoming a fashion designer. Whenever Viola comes home from work, the daughter routinely opens all the windows to demonstrate her contempt for what her mother does for a living. They barely communicate at home, and their only mutual activity is watching their favourite Italian TV show, La Piovra (The octopus) in silence. The series and its origin will be significant for future events for both of them.
Lonely Hearts Club One Man Band
We first meet the mother at a dating event. Here we are introduced to the dry sense of humour that Kocsis will revel in, that wouldn't be out of place in a Kaurismäki film. The couples are dancing "left foot first!" to a sad song performed by a man singing behind a keyboard. Cinematically Kocsis diverges from the Finnish director. The dance is depicted with a 360-degree camera movement (beginning at 0.20) which, together with the round lamps in the introductory scene, splendidly introduces the concept of circularity.
Thus the recurrent motif of the film is established. Visually in the way, round objects regularly appear in the image. At one instance, jokingly when the light forms a halo above a character's head. The narrative also shows the characters performing the same routines over and over and being stuck in a vicious circle. Viola routinely smells her hand on her way home from work. Once home, she goes through a rigorous cleaning in the bathtub. Her obsession with the scent of the air fresheners hardly seems healthy. At one point in the story, one of the protagonists starts a journey near a circular highway and will later, unexpectedly, end up at the same spot.
The storyline itself also seems to end up where it started.2 The script initially had the idea of starting and ending in the same location, but during the editing, it was decided that it would be more interesting to commence the film with the Lonely Hearts scene. There are however small signs that new horizons might open up and that greener pastures are awaiting at least one of the characters. Green being the operative word here since that's the colour that Angéla is associated with throughout the film. She is adept at sewing and designs her clothes, often from second-hand garments and practically always in green. When she asks her mother for money, she receives two green two-hundred Forint notes.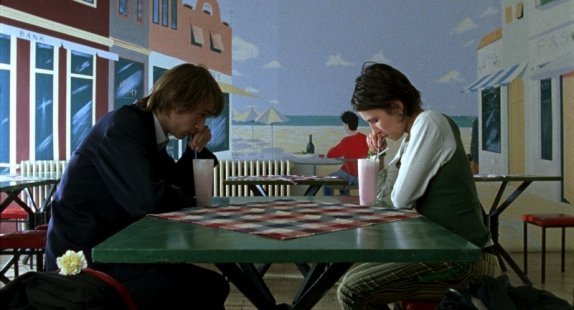 Fifty Scents of Red
If Angéla favours green, there's never any doubt about which Viola's favourite colour is. From the very first scene, we see her dressed in red and different shades of red will continuously be associated with her, whether she goes on a date or to work. That goes for her sense of decoration as well. We first see a burgundy armchair and curtain in her home, and later we discover that she uses the same material in her working space, for the wall as well as for the cabinet door. There she also has an artificial red plant (with green leaves) that hums and moves.
Red and green are, of course, complementary colours and one of the points is that even though they might seem like each other's opposites, they actually have much more in common than Angéla would care to admit. The director partially demonstrates this with the way red and green will interact, in particular, during the second half of the film. A potential boyfriend of Angéla will later be seen in a red sweater.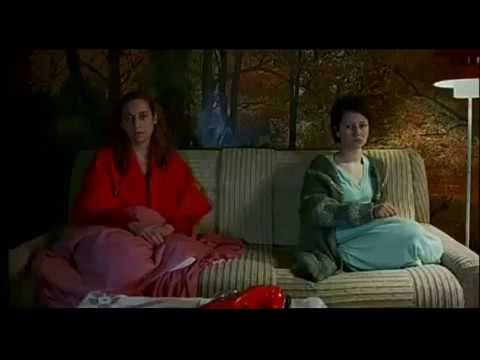 If the Lonely Hearts Club location was reminiscent of a Kaurismäki film, another Nordic director comes to mind when it comes to the portrayal of the living room: Bent Hamer in his debut Eggs (1995). Also a formidable formal work about two old brothers with their daily routine aided by their very low-tech setup. Similarly, we see mother and daughter quietly watching television in a room with a quirky design.
The Virtues of Shoestring Production
Produced on a meagre budget over one year, the film is strikingly shot by Ádám Fillenz. It was his first feature as well, but he collaborated with the director on her second short in 2003. He also lensed Kocsis' follow-up Pál Adrienn (2010) as well as Tegnap which screened in last year's Hungarian film week. If there are numerous memorable shots in the film, there are very few close-ups and those that are present are carefully chosen and all the more effective for it.
With all the formal grandeur on display, one shouldn't forget to mention the thespians. Júlia Nyakó, who was an established actress at the time, is perfect as Viola down to the tiniest movement. She can also be seen in Ildikó Enyedi's On Body and Soul. More surprising is how accomplished Izabella Hegyi's performance as the daughter is. She never hits a false note, and she would return for Pál Adrienn four years later. As far as I know, those are her only films.
Trying not to spoil too much, I feel I only scratched the surface of what this rich film has to offer. There is much more material that could warrant a formal analysis. On the other hand, it should be pointed out that the film never feels dry or academic, but rather perceptive and also quite funny. Friss Levegö was a good start for Ágnes Kocsis, but there were bigger things to come, four years later.
Watching the Ágnes Kocsis Film
The film can be watched legally on Vimeo