1957 was a seminal year for Ingmar Bergman. He released two films that year. The Seventh Seal (Det sjunde inseglet) and Wild Strawberries (Smultronstället). Both were international successes, and Wild Strawberries won The Golden Bear at Berlinale. Victor Sjöström, who played the lead in the film, also won the FIPRESCI award for the body of his work, as well as for his performance in the film.
The connection between the two is undeniable. Not only because Sjöström already played a part in Bergman's To Joy (Till glädje 1950) but mostly because Bergman was an avid fan of his as a director. In interviews, he would repeatedly mention works such as Ingeborg Holm (1913), God's Ways (Karin Ingmarsdotter, 1920) and above all, The Phantom Carriage (Körkarlen, 1921). In that film, David Holm (Sjöström) is forced to look back on his life and see how his way of living affected those around him. In the same way, Isak Borg will reflect on his own life.
The storyline is quite simple. Isak Borg is being promoted to Honorary doctor in Lund. He is supposed to fly there from Stockholm, but after having a nightmare, he decides to go by car instead. Accompanied by his daughter-in-law, Marianne, the doctor decides to make a stop by his old summer house. Once there, memories start flooding over him.
As narrated by Isak, "The day's clear reality dissolved into the even clearer images of memory that appeared before my eyes with the strength of a true stream of events." Two years before Alain Resnais' Hiroshima Mon Amour, flashbacks and dreams still had to be announced. From now on, the examination of Isak's life will take part through flashbacks, dreams and also during the trip itself.
There are numerous mirrorings that tie the different planes together. Most obviously, Bibi Andersson has a double role as Isak's cousin Sara, as well as a young girl who will tag along for the ride with Isak and Marianne.
A married couple that will join the vehicle after a near crash will appear later in a second dream sequence. Their name is Alman, and the man is a thinly veiled portrait of the critic Stig Ahlgren. He was known for his ruthless criticism and was particularly harsh towards Bergman's Smiles of a Summer Night (Sommarnattens leende 1955). Here he is depicted as a cruel man in a marriage that has gone sour. That he would appear in Isak's second nightmare as an examiner who fails him makes perfect sense. Not least, considering that the main character shares the director's initials.
One part of the examination contains a language test. Bergman would repeatedly talk about his weak vocabulary, for instance, in the book "Bergman on Bergman". If this sounds vindictive, it should be pointed out that his films in the fifties received quite terrible reviews at times, in particular, but not exclusively, Sawdust and Tinsel (Gycklarnas afton, 1953). What is now considered one of his greatest films made one reviewer exclaim, "I refuse to perform an ocular inspection of the vomit that Ingmar Bergman left behind on this occasion." The Alman couple also functions as a mirror of Isak's unhappy marriage.
Isak is not beloved by his relatives. Marianne calls him an old egoist who is utterly ruthless and doesn't care about anyone else than himself. She also claims that his son hates him. Thus, we early get a very negative view of a cold-hearted person. This is also emphasised, not too subtly, by the name. Is means ice in Swedish, and the writer admitted that was the reason he chose that name.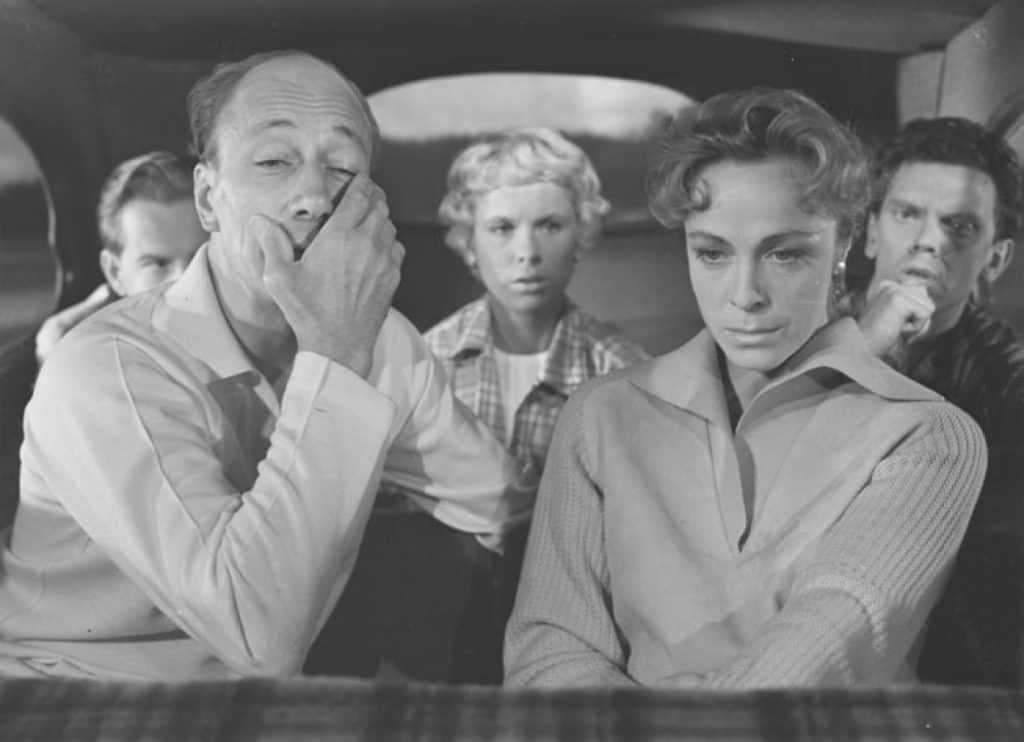 Borg (fortress) emanated from the fact that the doctor was difficult to get close to. It's obvious that he can be quite cruel, considering his comments to Marianne on her marriage to his son.
However, this image of him is challenged when they stop for gas in Isak's former hometown, Gränna. The gas attendant Henrik (a small role by the late, great Max von Sydow) won't accept any payment for the gas, referring to what the doctor did for them and others in the neighbourhood. It doesn't appear to be financial aid, but rather something human since Henrik stresses it can't be paid "not even with gasoline."
The film has inspired countless other films. The crudest example might be Woody Allen's Another Woman (1987), which even begins with the sound of a clock, just like Wild Strawberries does. In my mind, the greatest film influenced by Bergman's film is Providence (1977) by the aforementioned Alain Resnais.
Just like Isak Borg, Clive Langham (one of John Gielgud's strongest performances) is 78 years old. He's not a doctor but an artist, like so many of Bergman's protagonists. Like Isak, Clive also has issues with his son Claude. Nightmarish visions haunt him constantly in David Mercer's highly inventive script, where the truth of family members is also challenged.
Wild Strawberries is not technically perfect. Cinematographer Gunnar Fischer was never happy with the fact that back-projection had to be used for the car scenes due to Sjöström's poor health. It could be argued, however, that it lends a suitable theatrical feeling to the film and that it also ties the work closer to another one of Bergman's great influences: August Strindberg. He staged A Dream Play several times in the theatre, and reading Strindberg's own statement about that work is an apt illustration of Wild Strawberries as well.
"Time and space do not exist. Upon an insignificant background of real-life events, the imagination spins and weaves new patterns; a blend of memories, experiences, pure inventions, absurdities and improvisation." This introduction is also quoted near the end of Bergman's last film for the cinema, Fanny and Alexander (1982).
Anchored by Sjöström's towering performance, most memorably in the last scene, Wild Strawberries remains one of Bergman's most beloved works, and deservedly so.
Wild Strawberries