My hands used to tremble for some time. It's because you suppress things. Try painting or writing a blog.

The Cyclop
Those words of wisdom come from a shady character called The Cyclop in Attila Gigor's debut feature, A Nyomozó (The Investigator 2008). It's only one of many funny lines of dialogue written by the director, as well. Tibor Malkáv (Zsolt Anger) is a pathologist whose mother is dying from bone marrow cancer. The only way to save her is to get money for a private surgery clinic in Stockholm. He receives an offer to earn 40 000 Euros if he kills someone. He accepts, and simultaneously he is somewhat involved with the waitress Edit (Judit Rezes). They go to the cinema together, but he is very reluctant to do anything afterwards, to her chagrin.
The storyline will get more convoluted with several twists and turns like a modern noir. The structure borrows elements from Six Feet Under, with sequences depicting some unusual causes of death, like in the very first scene. All those people will end up in Tibor's morgue. One of the ironies is that he doesn't show much more emotions than the corpses he has to take care of. The characters sometimes feel like they came from a Kaurismäki film where they stoically go through life without reacting to the disappointments they face. The humour is deadpan throughout. When Tibor tracks down an individual who doesn't want to be found, the latter still takes time to philosophize.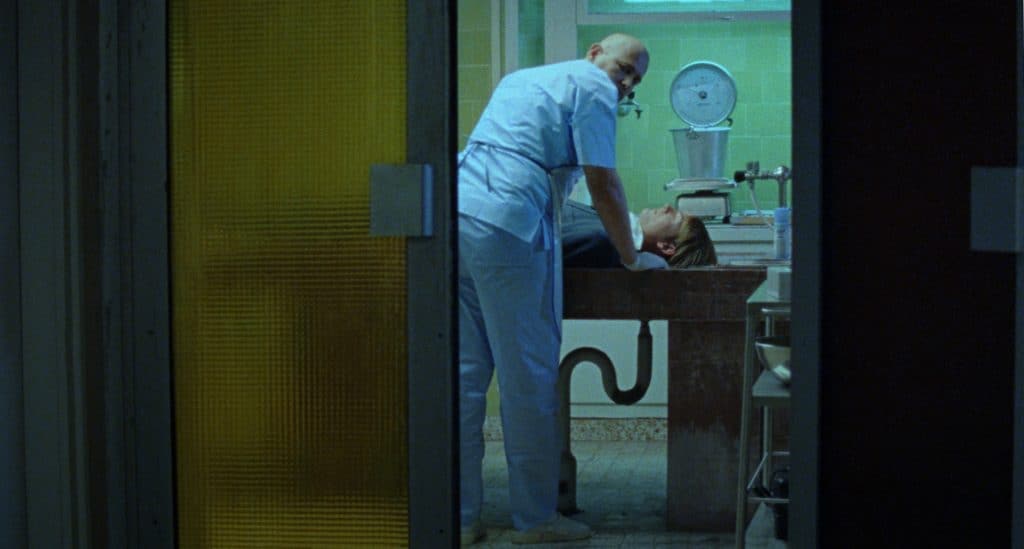 The approach to the noir material could be compared with Robert Altman and Leigh Brackett's approach in The Long Goodbye (1973). The story is sad and morbid, but the tone is steadily playful. That goes for the dialogue but also how the scenes are presented. A Nyomozó is endlessly inventive with the cinematic modes employed to illustrate different elements of the film. Occasionally, it's Tibor daydreaming how things could play out. One such sequence towards the end uses a distancing device that might be borrowed from one of Bergman's later films. A theory that may be confirmed by the fact that the director once directed Persona as a play in a Budapest theatre.
Investigating the crew behind A Nyomozó
The film was a Swedish co-production but still didn't receive distribution in Swedish cinemas. It was, surprisingly, released on Blu-ray in Germany and won awards in Karlovy Vary, Kyiv and Warsaw. The technical aspects of the film match the craftsmanship of the writing and direction. It is not the first time I have written about a film lensed by Herbai Máté, and with Zoltán Kovács on editing duty, the film is in safe hands. Favourite films are the most difficult to describe and usually speak volumes about the person who labels a work as such. If I had to pick a scene that exemplifies why I love A Nyomozó, the choice would be Tibor trying to buy a cinema ticket.
Tibor is met by a girl selling tickets, answering his questions while constantly chewing gum.
What do you suggest for 10 PM?

That you go to the theatre instead. The art of film is dying. Theatre at least has long been dead.
In 2016, Attila Gigor made a second feature called Kút (Well), which is also worth watching, even if it doesn't reach the heights of the debut. A Nyomozó is available on YouTube with English subtitles.