So, May We Start?
The opening film of this year's Cannes Film Festival was Annette, directed by Leos Carax and written and scored by Sparks. It is not a typical opening film, which is rarely good and never great, but a more challenging work that instantly polarized the audience. It's a musical written by the Mael brothers, and one of the most intriguing things about it is that the teasers and trailers gave a very vague idea of what the film actually looks like. Whereas the trailer gave the impression of a romantic comedy with some quirky twist, the film delivers something much darker and hardly designed to please a black-tie premiere audience.
In some ways, Annette is the story of an artist couple. Henry is a stand-up comedian famous for challenging and attacking his audience. Ann is a lauded opera singer, and the gap between their cultural cachet is a major factor in the film. That doesn't necessarily mean that it's a central theme as well. The couple gets married, and Ann gives birth to the titular child, who seems to have some peculiar abilities. The name is obviously a diminutive for Ann, so it is hardly surprising that she will share some characteristics with her. The love story kind of turns sour in a warped way. Meanwhile, Henry's comedy grows darker, as does his personality.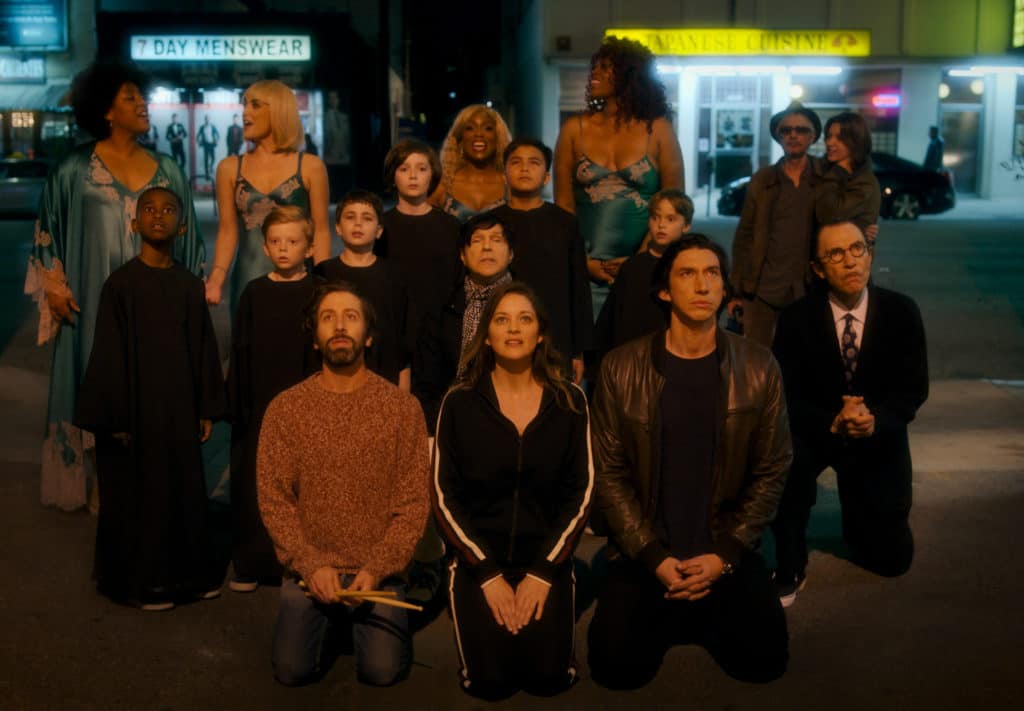 So, May We Fart?
The film commences with a voice-over, giving the spectators instructions on how to behave while watching the film. Most of them are sorely needed, like telling the audience not to shout, sing and fart, but the last instruction is not to breathe. We are instructed to take a deep breath now, which will hopefully last throughout the film. Then the film begins, slightly reminiscent of Lindsay Andeson's O, Lucky Man! (1973), with Sparks and other musicians performing the opening song "So May We Start". Suddenly everyone, including the director and his daughter, leaves the studio while singing the rest of the song in the streets.
Who knows what the winds gonna bring when the invalids sing
"La La's" with a powerful sting that'll stop any opera or any Bing 1
The first line from the song Achoo.
With the line "The curtains of our eyelids lazily rise", it's clear that this will be a film that will focus on the artifice of the art, quite typical for opera. In a scene from Ann's performance that takes place in a forest, this will become abundantly apparent. The look of the child is hardly naturalistic either. Something that initially irritated me until the final half-hour, when it all came together. Even though the film is set in the artistic world, with numerous comments about the relationship between fame and genuine validation, it delves deeper than that and questions the possibility of any relationship. We are closer to Vertigo than A Star Is Born here.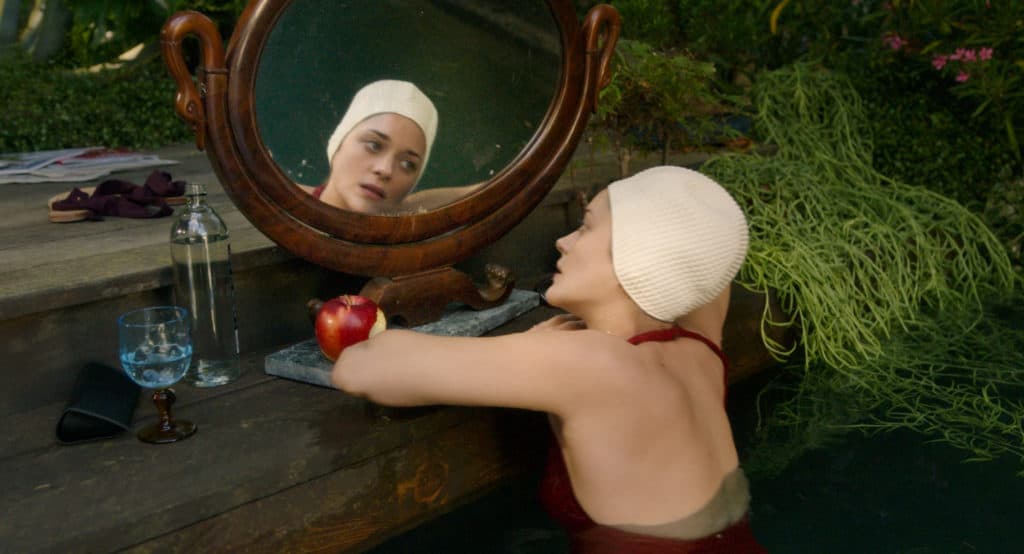 The film has received mixed reviews, with some critics not even attempting to understand what Sparks and Carax were going for. Sparks fans might have a head start. It's been said that Sparks songs are often about the guy who doesn't get the girl. In earlier songs like This Town ain't Big Enough and Don't Leave Me Alone with Her, it was easy to feel sympathy for the man. In later songs like The Very Next Fight, Ron's lyrics are much darker, with the male protagonist confessing that he can't control himself. When the song was performed live, Ron was fighting a screen version of himself. The film follows up on those sentiments with its depiction of Henry.
Henry rides his Holy Motorcycle
Henry may not be the portrait of a serial killer, but he is, without a doubt, a person whose masculinity is not of the nourishing kind. (Someone should come up with a term for that. Non-nourishing Masculinity?) I'm the president of the "Adam Driver is overrated" club, and so far, the only member. However, in this part, he excels and creates a terrifying interpretation of a man whose instincts are out of control, not only on his motorcycle. The other thespians are great as well in roles that were quite demanding, even physically. All the singing was done live, like in Kasper Holten's excellent Don Giovanni film Juan (2010). That was also true of Kylie Minogue's performance in Holy Motors.
That the film is loaded with references is not surprising coming from the band that wrote: "A Song That Sings Itself". Older Sparks songs are used in the film, sometimes with new lyrics like Henry's comedy imperative Laugh, Laugh, Laugh, which appeared in its original form as Rock, Rock, Rock on the Hello Young Lovers album. Other songs are used as they were but in a new context. There are references to Carax's earlier works as well, and some critics have mentioned his relationship with Yekaterina Golubeva as a source of inspiration. With Caroline Champetier as DP, it's not surprising that the film looks tremendous with its green and black tones.
The film is sure to be divisive when it opens in cinemas, and once again, Sparks and Leos Carax managed to surprise us.