Here is Bas Devos' fourth film, which was presented during the Encounters section at the 2023 Berlinale. The film starts at a building site where we see a crane. A man is standing with his back to the camera, smoking a cigarette. The man is Stefan (Stefan Gota), who is a Romanian construction worker. Now, it's time for his holiday when he will go back to his home country for four weeks. Since his car is not ready, it seems that he has to postpone his trip for a day or two. We will follow, or rather observe, him during certain moments before his trip.
Since he suffers from insomnia, he is often out walking at night. His inability to sleep points to that he is not comfortable in the situation he is in. Maybe some major change is needed. He cleans out his fridge and makes lots of soup out of the ingredients, portions of which he will give away to people. One of them is his mechanic, who, after receiving the soup, promises that the car will be ready on time. We see him meeting his older sister, who is an overworked nurse, and earlier, we saw Stefan with his co-workers.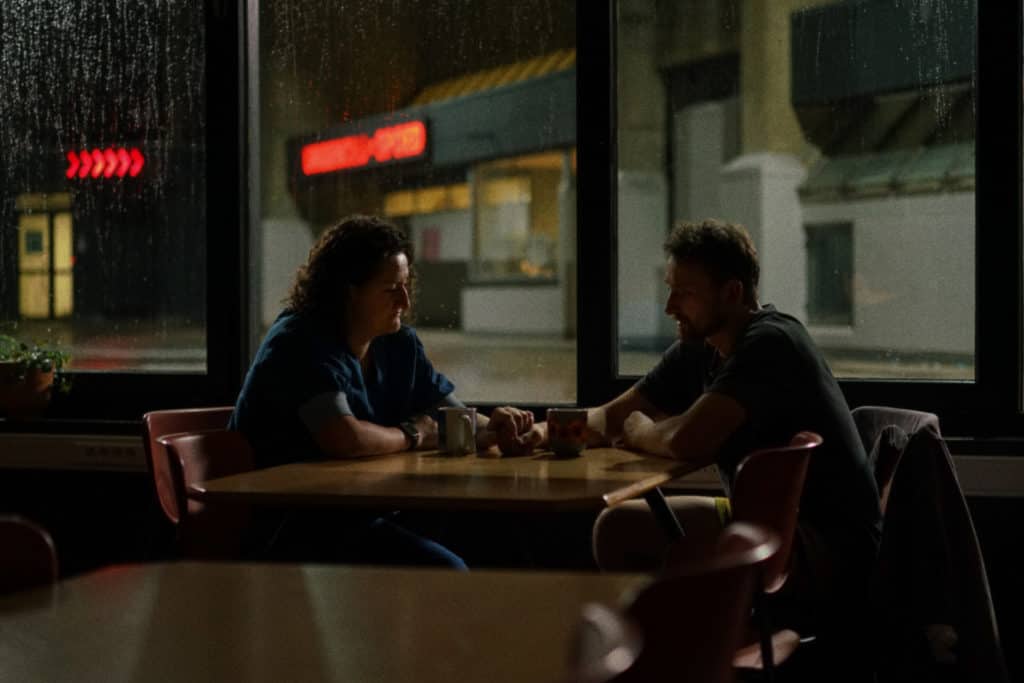 Here today
Roughly halfway through the film's brief running time, another character is introduced; Shuxiu (Liyo Gong). We hear her talking about lying in bed and suddenly discovering that she forgot the names of the objects around her. Only when she hears a scream everything comes back to her. In a film with little dialogue and few words in general, this monologue stands out. When I interviewed the director, he acknowledged that the scene alluded to the character's need to name things since she is a scientist (more precisely, a bryologist) but posited the thought that Shuxiu might dream about letting go of that. Devos made a reference to the book Gathering Moss by Robin Wall Kimmerer.
Shuxiu helps out her aunt in a Chinese restaurant, and that is where she and Stefan meet for the first time. He is soaked from the rain, and she offers to dry his shoes on the radiator. This is not a regular meeting cute scene. In fact, very little is regular in this film, at least from a narrative point of view. Here is a film that pays attention to the moment and aims to unearth the hidden treasures beyond or behind what we notice in our daily lives. Judging from the reviews and the awards, it seems to have worked that way for many spectators. My own experience was somewhat different.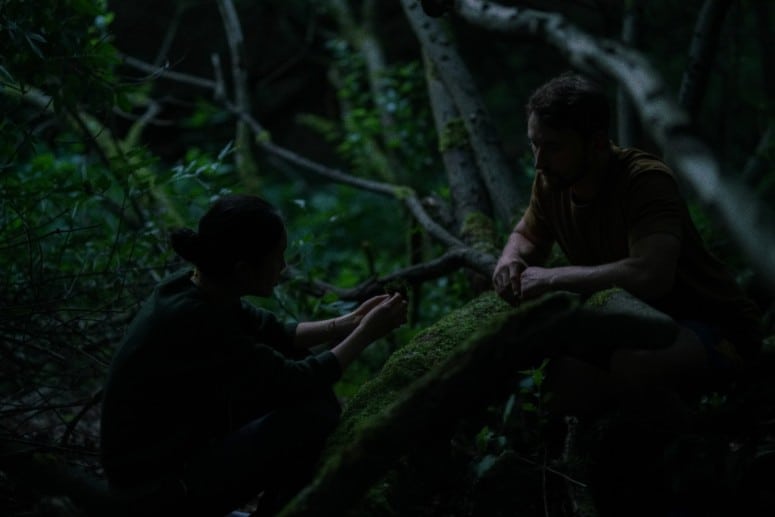 Devos is a Berlinale regular, with all of his films screening there except his third film Ghost Tropic which appeared in Quinzaine des Réalisateurs at Cannes in 2019. When I watched it, I found many things to admire, but I couldn't stop thinking about Chantal Akerman's masterpiece, Toute une nuit (1982), which somehow hampered the experience. In some ways, watching Here provided me with a similar sensation. It is easy to point out everything that Devos gets right in the film, from Grimm Vendekerckhove's cinematography to the precise and delicate structure, which still manages to keep the film beautiful and vivid in a non-academic way. Still, the film didn't really resonate with me the way I hoped it would.
In a film with that many virtues, including Stefan Gota's and Liyo Gong's understated performances, it would be foolish not to recommend the film to virtually everyone. The fact that I felt somewhat dissociated with Here doesn't negate the fact that most people interested in arthouse cinema will have a profound experience.