The highlight of the 2023 Berlinale was the two tandem films directed by João Canijo. Bad Living (Mal Viver) was screened in the competition, whereas Living Bad (Viver Mal) was presented in the Encounters section. During the festival, I had the opportunity to talk to the director about this unusual project. The two films are set in a hotel where Bad Living depicts the story of the hotel owners, while Living Bad shows events from some clients' points of view.
How did this whole project start? It's not directly based on a book, as far as I understand.
No, it's not. Well, you could say that it started with Autumn Sonata (Höstsonaten 1978), and from there, I went to Strindberg.
Talking about that, I saw that someone involved with the sales of the film is called Strindberg. Ana Isabel Strindberg.
Yes, that's true, but I don't think there is any relationship there. (laughing)
Sorry for the interruption, so Bergman and Strindberg.
Yes, it started with that, and then I understood that I had to make a film that was really important to me. So in a way, we got away from Strindberg and started working with the actresses. Then we found a plot that suited what I wanted to say, what I needed to say. At first, I thought the hotel could be empty without guests. But then I thought that it would be better if there were guests there and that their dramas would cross and disturb the story of the hotel family.
Since I have a massive obsession with Strindberg, I decided that the second film would be based on his plays, three to be exact. From the moment when the decision was made that the hotel guests would be given equal weight, it was obvious that it would be two different films.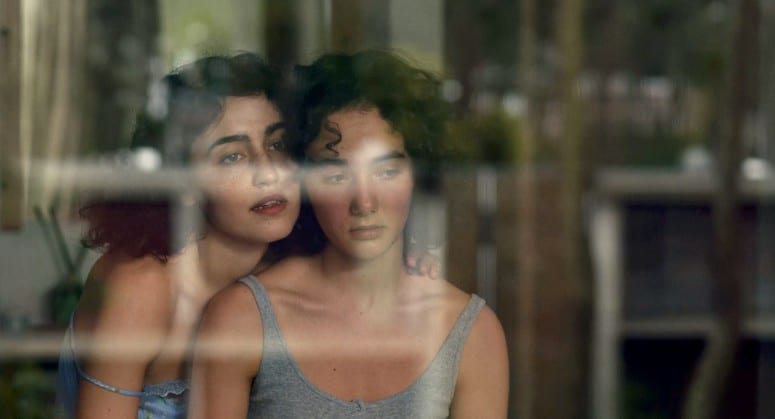 João Canijo and August Strindberg
So, Strindberg is someone who is important to you in general? It wasn't just that you thought he was suitable for this project.
He is a great playwright that I like a lot, and then you have Bergman, who is a very important director for me, and Strindberg was his spiritual mentor in a way.
Yes, we joke in Sweden sometimes and say, "Strindbergman".
Yes, exactly, Strindbergman. (laughing). Do you know the story of The Stronger (Den starkare 1889)? That shows that Strindberg was evil. (laughing)
Yes, I do. I guess you know that Bergman often adapted Strindberg's plays for the theatre.
Of course, I know that.
Not everyone outside Sweden does know that. So you said that as soon as you knew the guests would be in the story, there would be two films. How did that work with the production?
Actually, not all of the actors knew that from the beginning. They knew after a while.
When I saw Mal viver, I was disappointed that I didn't see more of Leonor Silveira, but today I got that when I saw Viver Mal.
Exactly! That's the idea. When Leonor Silveira saw Viver Mal for the first time, she said that she wanted to follow the owners instead since they seemed much more interesting. (laughing), but that was the idea of the whole thing.
So if we delve into the cinephile thing, how come you chose to show those scenes from Monteiro's A Comédia de Deus (1995)?
It's simply because he was my friend and that is my favourite film of his. I needed something to play on the TV, and I chose that one.
I was actually thinking about Monteiro during the opening shot with the swimming pool, which for some reason, made me think of the staging of the ice cream bar in the first scene of that film.
He wasn't an inspiration for this film at all. When I started thinking of the film, there was first Cassavetes, then Hou Hsiao-Hsien and Wong Kar-Wai, and then Bergman.
But not stylistically with Bergman, obviously?
No, with the content. I try not to repeat myself from film to film, so this is different from my latest films. I wanted more atmosphere instead of camera movements.
And I understand that the cinematographer, Leonor Teles, is relatively young.
She is young, but she has a Golden Bear for a short film. 1For the short Balada de um Batráquio 2016, as director, cinematographer and editor.
It was the first time that you worked together, right?
It was the first time, and we are great friends now. It was the first time that I had a true collaborator. With that, I mean someone who is more than a technician. Somebody who gives something of herself to the film. Somebody that I can discuss and reach conclusions with. I was looking for a new DOP. Then I heard that Leonor wants to be two things: Director and DOP. She is shooting her first fiction feature now.
The cinematography in these films is truly astonishing. I even lost the plot several times because I was just staring at things all over the screen…
That's the idea! That's the idea! The idea is very much to stage and frame the shots so people can forget the plot, get immersed in the images, and then imagine the film themselves.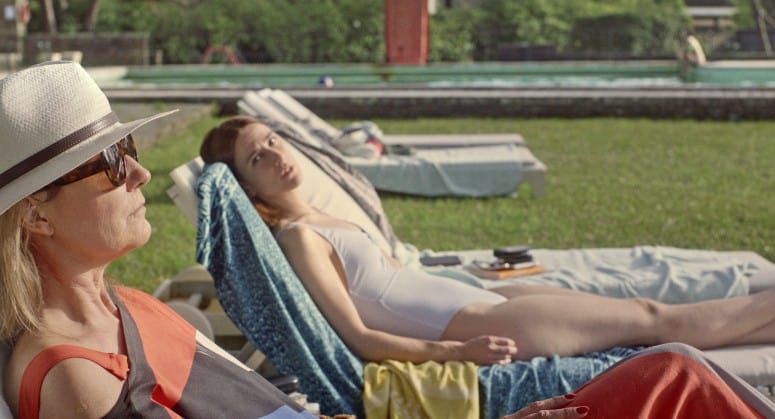 That's interesting. So since you discussed that much, how did you approach the style? The colours and the framing, and so on.
We discussed a lot. I had a shot list with my concepts of the shots. Then I left the framing to her to a large extent. She has an affinity for wider lenses, while I am the opposite in some way.
Sometimes, I was thinking about Tati's Playtime, especially with those shots of the facade with all those windows where we could choose what to watch.
I love Jacques Tati. The idea was to let the viewer be very curious about what's going on in these rooms and once again forget the plot.
And you have to be active.
You have to be active, and then when the plot returns, it's a shock.
It's the best film I've seen in a very long time.
Thank you. I think Mal viver is my best film.
I haven't seen some of the latest ones, but from those I've seen, I agree. Are the formal aspects more important to you than the plot?
Yes, for sure. And also when I watch films. Even when I really like a film, I forgot a lot about the plot.
Me too!
I want to reach a point where the individual, subjective experience of the shot counts rather than mine when I make a film.
The editing was maybe the least challenging part of the films, especially with Mal viver.
That one wasn't challenging at all. With Viver Mal, we tried a version where the three parts were interconnected, but we found out it didn't work, so we went with the three parts.
So, any new projects coming up?
Of course! If I didn't, I would collapse. It's a project about actresses. It's called Staging.