Today, the news was announced of the passing of Elemér Ragályi. The name may not immediately ring a bell for everyone, but he was one of the most distinguished cinematographers in the history of Hungarian cinema. That's a bold statement, considering the vast amount of accomplished Hungarian DOPs, but there is plenty of evidence to back up that claim. Elemér Ragályi was born in 1939 in Rákosliget. He started working at Mafilm in 1957 in different capacities, including laboratory technician, lighting engineer, and recording manager. He graduated from the Academy of Theater and Film Arts with a degree in cinematography in 1968. The same year he worked on Judit Elek's documentary Meddig él az ember? I-II.
His first contribution as a fiction feature DOP would be with Judit Elek as well, namely in her feature debut, The Lady from Constantinople (Sziget a szárazföldön 1969). It was followed the subsequent year by one of the great classics of Hungarian cinema, The Falcons (Magasiskola 1970), where his lensing provided the perfect atmosphere for István Gáal's bleak tale. Other highlights of the seventies include Fotográfia and Football of the Good Old Days (Régi idök focija), both released in 1973. Among other titles, one could mention The Wind Blows Under Your Feet (Talpuk alatt fütyül a szél 1976), Deliver Us from Evil (Szabadíts meg a gonosztól 1979), and A trombitás (1979).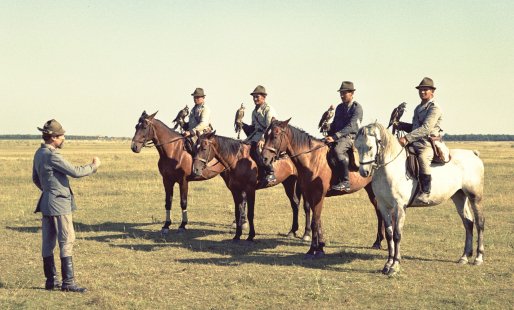 The legacy of Elemér Ragályi
Ragályi was one of the most essential stylists of the Illés school. His work with a hand-held camera and his particular way of lighting technology put him at the forefront in the aforementioned decade. As the titles above point to, he worked with several distinguished directors, among them Pál Zolnay, Pál Sándor, Gyula Gazdag, János Rózsa, Ferenc Grunwalsky, András Kovács, György Révész and György Szomjas. It should also be noted that the last two films he lensed in 2017 were also powerful works. Ferenc Török's 1945 and Éva Gárdos' Budapest Noir. In the latter, he collaborated with Maci Ragályi.
When I met Török at the 2017 Berlinale, I asked him about the choice of DOP, which was somehow a change for him. He told me that apart from Ragályi being a great cinematographer, an extra dimension was added by the fact that he was six years old when the events took place.
Elemér Ragályi worked extensively outside Hungary, as well. He won an Emmy for his work on Rasputin (1996). He was the cinematographer of Journey to Hope (Reise der Hoffnung), directed by Xavier Koller, which would go on to win the Oscar for Best Foreign Film. He was awarded the Best Cinematographer award six times at the Hungarian Film Festival. He was also awarded the Béla Balázs Award (1974), the Meritorious and Excellent Artist (1985) and the Kossuth Award (1991). He directed two films, Csudafilm in 2005 and the TV movie Fekete-Fehér (2006), for which he won the Best Director award at the Hungarian Film Week.
Reactions have been pouring in. Among the most official is one from the mayor of Budapest, Gergely Kárascony. For a personal response, I reached out to Attila Janisch, the director of Long Twilight and other classics. This is what he had to say.
He was the best teacher for us, who were his students (1980-1984). He was one of the world's best cinematographers. He made a very good film as well as a director. His last work was a great book, so he was also a good writer. He was a great, sincere man and a great father to his two talented children.
When I go through Ragályi's 106 credits as a cinematographer, I notice that I've only seen twenty of the films he worked on. He leaves an extensive legacy, and his contribution to cinematic art will be regarded as one of the most memorable ones.