In the 19th century, an infamous outlaw returns from prison to exact revenge on the people who put him there. Is it an American Western or maybe a spaghetti Western? No, this is a Hungarian film from the seventies, an Eastern. It's called The Wind Whistles Under Their Feet (Talpuk alatt fütyül a szél 1976 ) and was directed by György Szomjas. The genre is sometimes called Goulash Western outside Hungary. Other examples are Szomjas' Bad Guys (Rosszemeberek 1979) and Hajdúk by Ferenc Kardos. All three of those films are available on Cultpix. The eminent VOD platform also hosts Hungarian classics, such as Meteo (1990) and The Vulture (Dögkeselyü 1982), among a wide variety of other cult films.
In The Wind Whistles Under Their Feet Gyurka Farkas Csapó (Djoko Rosić), the infamous outlaw from Karca, returns from prison, ready to take revenge on those who gave him up. The local big farmers entrust the peace commissioner Balázs Mérges (István Bujtor) to get him arrested. That is the basic plot which will be loosely handled by Szomjas in his very first fiction feature. There is the theme of town vs countryside, old vs new. The local shepherds are threatened by the big farmers who want to build a sewer system through the land. In that regard, the Easterns are not that different from their Western counterparts, but there are certainly odd and wacky quirks that distinguish the Hungarian variety.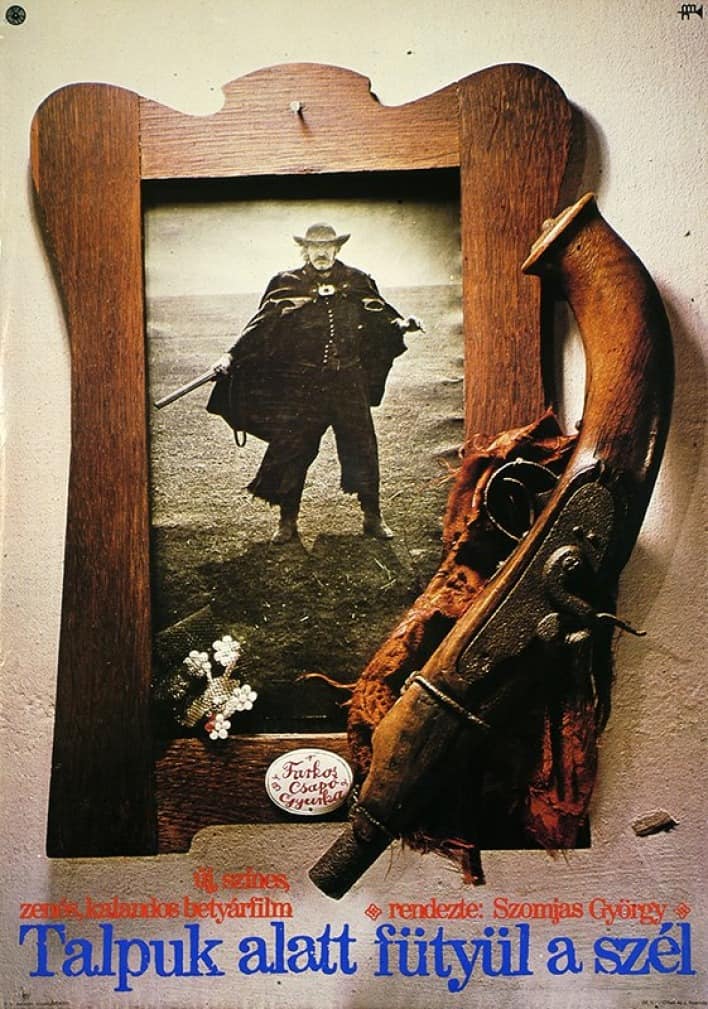 Eastern Stories
There are the obvious things that it's a sewer system instead of the new railway that causes problems. There are local equivalents of the classic cowboy hat, and the local inns look somewhat different. Folklore music plays a major role. In the case of this film, Ference Sebö's music is based on old folk songs. The moral or lack thereof can be quite laconic and is reminiscent of Budd Boetticher films where characters can admit that they forgot what the original argument was even about. Szomjas has never shied away from a weird sense of humour. During one chase scene on horseback, Gyurka suddenly stops and starts urinating without even getting off his horse. His pursuer follows his example.
The production values are surprisingly strong. The cinematography is by recently deceased master Elemér Ragályi. There is also an impressive attention to historical detail. The script1The script was co-written with Péter Zimre. was written based on the collections of the ethnographer Sándor Szűts, and the costumes and sets were also based on ethnographic materials. The costumes were designed by Zsuzsa Vicze, who worked on numerous Jancsó films. The environment is similar to Jancsó's works, and there have been attempts to compare the two directors. I will not go down that route even though a case could be made comparing the lack of simplistic emotions in the films. Possible objects for comparison could be Sirokkó (1969) and Ègi bárány (1971).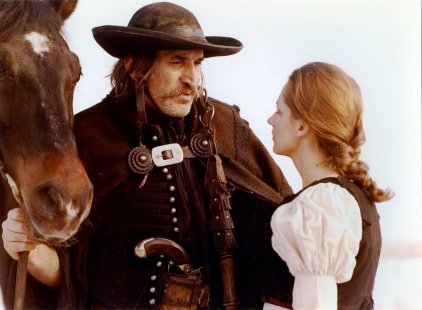 Bulgarian actor with Yugoslavian roots Djoko Rosić played the lead in all three aforementioned films. The Wind Whistles Under Their Feet was a commercial success, with 600 000 spectators in Hungary alone. Bad Guys (Rosszemberek), three years later, was slightly less popular. It featured János Derzi in one of his very first roles. In the long run, the Easterns didn't survive that long, but the existing ones are worth seeing, especially now in their digitally restored form on Cultpix.