Fallen Leaves (Kuolleet lehdet) is the latest film by Aki Kaurimäki, which was presented at this year's Cannes festival. It tells the story of two people, Ansa (Alma Pöysti) and Holappa (Jussi Vatanen), who meet each other by chance in the Helsinki night and try to find the first, only, and ultimate love of their lives. There are obstacles in their way, however, and many of them seem to emanate from themselves. That's basically the plot, and the director doesn't spend too much time telling it. At 81 minutes, the film was, by far, the shortest film in the competition. Maybe that explains why it was so warmly received. On the seventh day of the festival, the briefness was welcome.
Aki Kaurismäki is an old favourite of mine. With a few exceptions (like the Leningrad Cowboys films), his works made between 1983 and 1999 are undisputed masterpieces in my book. From 2000 onwards, I had a rougher time connecting to his films, even the highly acclaimed The Man Without a Past (Mies vailla menneisyyttä 2002)1 The Man Without a Past won three awards at Cannes 2002., and even more so with the immigration-themed films that followed. The last of those, The Other Side of Hope (Toivon tuolla puolen 2017), won the Best Director Award at the Berlinale in 2017. The new film is presented as the fourth chapter of the Working-Class trilogy, which ended with The Match Factory Girl (1990).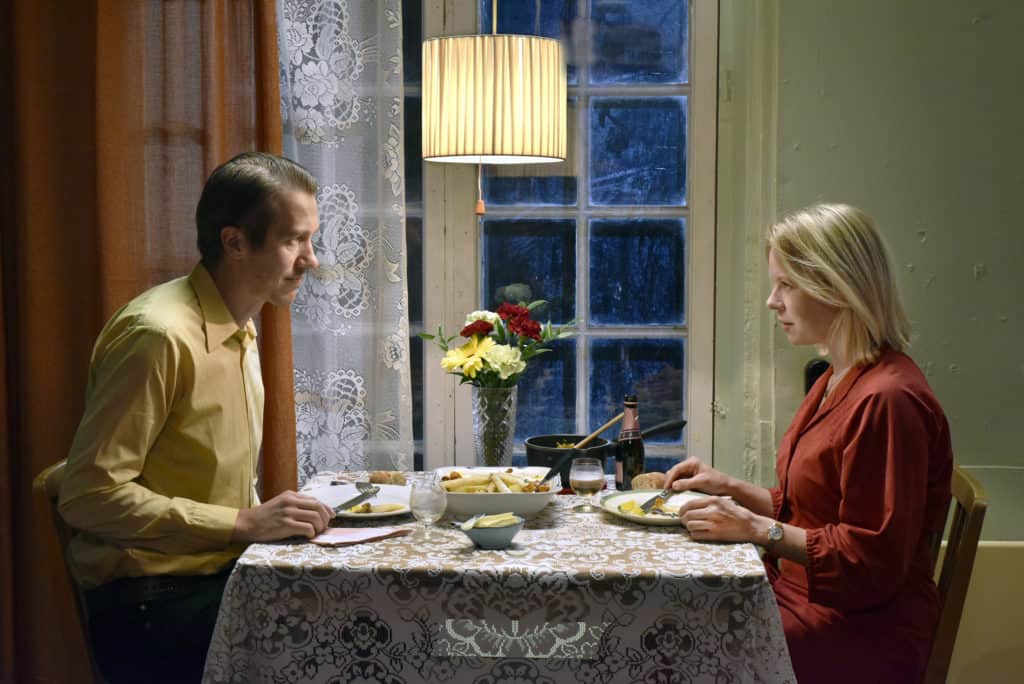 How Fresh Are the Fallen Leaves?
So how would an old Kaurismäki fan react to the new work? It was a weird experience watching a film with so many elements that felt like they were directly lifted out of the previous films. There was so much that reminded me of the aforementioned trilogy, especially Shadows in Paradise (Varjoja paratiisissa 1986). There is much to appreciate in Fallen Leaves, from the deadpan delivery of the dialogue to Timo Salminen's cinematography (who also lensed Lisandro Alonso's Eureka, screened in the Premiere section). Still, there is a dreaded sense of déjà vu. Well, déjà écouté, as well, since even Tchaikovsky's Pathétique makes a return. The feeling is one of watching a film student making a Kaurismäki film.
There's an attempt to add a contemporary feel through the radio where Ansa stumbles on the news about The war in Ukraine before finding the music channel she was actually looking for. That ploy felt tired already the first time it occurred in the film, and it is repeated too many times. Otherwise, there is the compulsory Finnish tango and other melancholy songs. The actors are fine in their roles. Vatanen manages to add some layers to his character whose first name we are not told (just like with Nikander in Shadows in Paradise). Alma, from the famous Pöysti family, is fairly efficient as well. Just like in Drifting Clouds (Kauas pilvet karkaavat1996), a dog is present.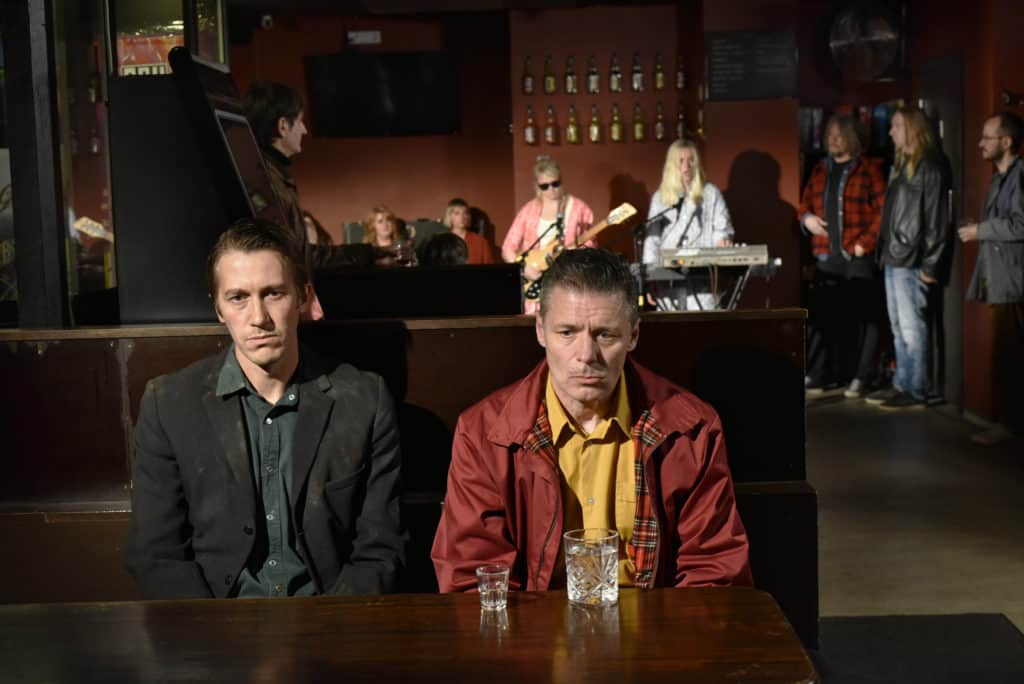 Why did a film where a director essentially makes a diluted version of a greatest hits movie become so popular at the festival? One of the explanations, however implausible as it sounds, is that several critics haven't seen Kaurismäki's vintage films (I met such people). The main reason, however, has to do with a competition that wasn't just full of mediocre films but also really long ones. Fallen Leaves is 116 minutes shorter than About Dry Grasses and is constantly entertaining throughout its running time. Sometimes that will suffice. The film won the Jury Prize. Like at the Berlinale six years ago, the director did not get up on stage to pick up the award himself, but for different reasons