Tiger Stripes is the first feature by Malaysian director Amanda Nell Eu. It was the opening film of this year's Semaine de la Critique and won the section's Grand Prix. We will follow 12-year-old Zaffan, who struggles with puberty, discovering a terrifying secret about her physical self. Her failed attempts to conceal the inevitable lead her friends to find out who she really is, and they attack her. As Zaffan is further provoked by her own community, she soon learns that embracing her true self is the only answer to her freedom. That's what the synopsis says, anyway. She hangs out with her friends Farah and Mariam. The former warns her about the period but is surprisingly cruel as well.
Being the first to get her period, Zaffan won't be allowed to participate in the Muslim school's prayers. This rather causes envy among her friends, even though they call her stinky and disgusting. Already in the first scene, we've seen her making TikTok videos and showing off her bra. Something that annoys Farah. She uses startlingly frank language when she describes her disdain for her friend's behaviour. Later it seems that the entire school will be afflicted by whatever is happening to Zaffan. What could it actually be, and who is the woman with glowing eyes sitting in a tree looking at her? Is this merely a first period, or are other powers involved here?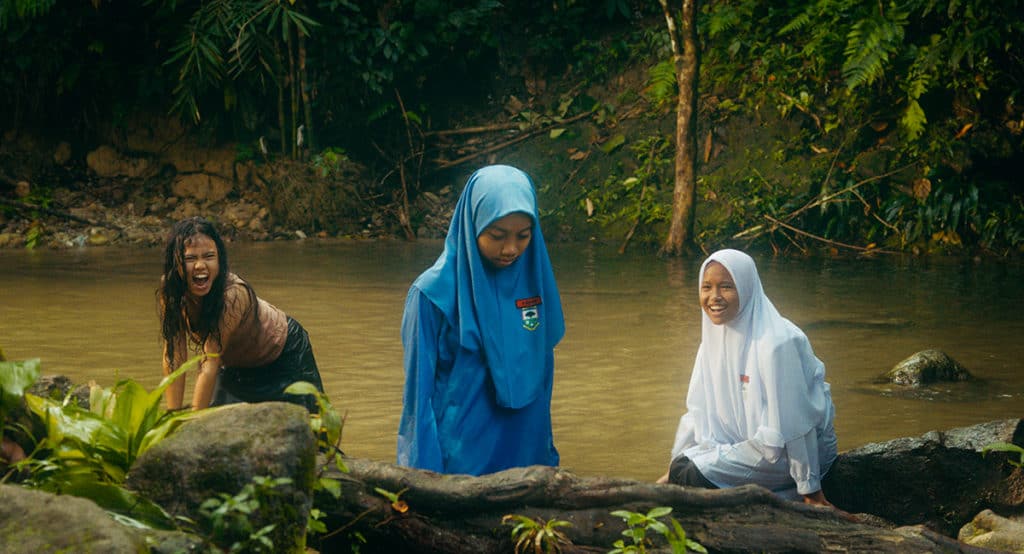 Will Zaffan earn her Tiger Stripes?
Those questions may not have obvious answers, but the situation in school becomes so dire that an exorcist is called. He is as apt with social media as Zaffan and ensures everyone tags him in their posts. The main protagonist herself will develop unexpected and unwanted skills that might refer to the titular stripes. Tiger Stripes often boasts an otherworldly feel, and the Malaysian jungle often feels weirdly artificial. A fact that the director told me was highly intentional during my interview with her. In one or two scenes, it might come down to the quality of the special effects, but overall the director's objectives are obvious. The references might be further away than Carrie and her overbearingly religious mother.
A name that has frequently been mentioned as a reference to the film is Apichatpong Weerasethakul. Even when the film was presented at Cannes, his name was thrown out next to some body horror directors. Some directors like Lois Patiño might even shy away from such a comparison. There were three screenings of the film on the first day. Oddly, all of them were sold out early. Something that doesn't happen every day in Semaine de la Critique. When I asked some people what brought them there, the answer was the same. "It sounded like a horror film from the description". Even if such a rendition of the film draws a big crowd, it might bring disappointment, as well. Ducornau
Tiger Stripes is something as unique as a fresh variation on a well-worn theme which already has a body of work of horrific proportions. Amanda Nell Eu manages to put her own spin on the topic and rightly earn her stripes as a director to look out for. Personally, my interest in the project came due to Juliette Lepoutre. and the production company Still Moving. The company behind the 2021 Semaine de la Critique winner Feathers and last year's highlight Mediterranean Fever. Last year's Locarno winner, Rule 34 (Regra 34) by Júlia Murat, was co-produced by Still Moving, as well. There are ample reasons to seek out Tiger Stripes when it comes to a festival near you.