Short Film About Killing (Krótki film o zabijaniu) opened in Poland in March 1988. Two months later, it played in the competition at Cannes, where it won the Jury Prize and the FIPRESCI award. This marked the breakthrough in Europe for Krzysztof Kieślowski and the start of his journey to become one of the superstars of European cinema. I remember watching Blind Chance (Przypadek 1987) in a half-full theatre at the Gothenburg Film Festival in 1988. Two years later, it was difficult to get tickets for the Decalogue screenings there. This film was one of two in the series that were released as full features. The other was A Short Story About Love (Krótki film o milosci).
It's obvious from the very beginning that we will witness a harsh and cruel world. The first sequence shows a dead rat in a water puddle, followed by a shot of a dead cat who has been hanged. Immediately not only the tone of the film is set, but also its themes. Who kills who and why? Then we are introduced to the three main characters. A young man, Jacek, a lawyer, fresh out of Law School called Piotr, and a taxi driver.
We see Piotr during his final exam, where he seems quite idealistic. He says the profession interests him since he would be able to meet people he wouldn't meet otherwise. He also claims that punishment is not really working, except as a deterrent for others. When asked about a source for the statement, he quotes Karl Marx's article on capital punishment.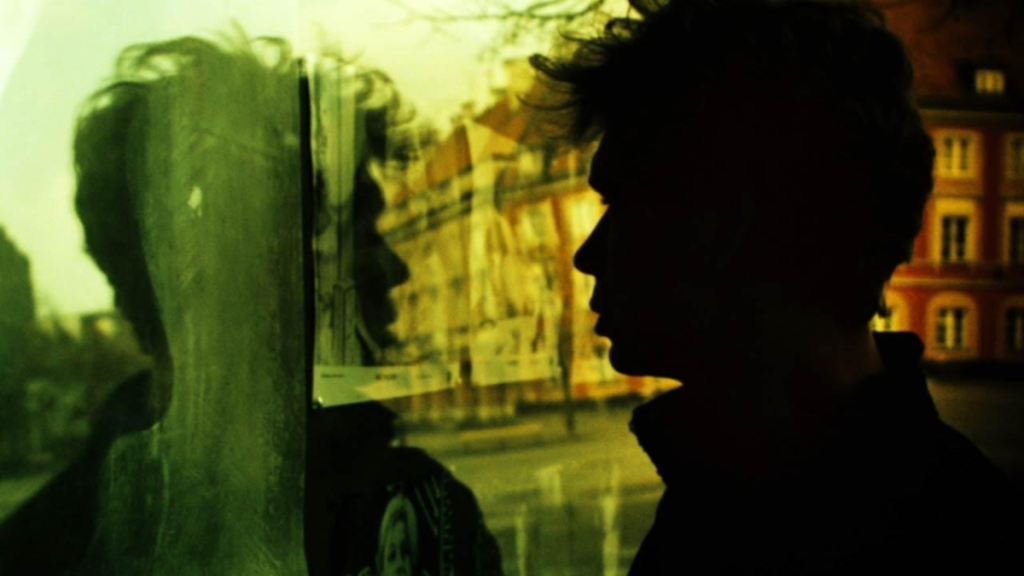 Jacek walks around seemingly aimlessly. He goes into a cinema where Wetherby1A renowned film at the time, for unknown reasons. is screened but is told that it's boring. He sees people being beaten up for unknown reasons, and he himself goes to a bridge to push rocks on the cars below. Then he visits a photography shop to get a photo enlarged. The taxi driver ditches customers for no apparent reason and tries to pick up a girl instead. Jacek will get into his taxi and kill him in a brutal, drawn-out sequence, reminiscent of the murder scene in Hitchock's Torn Curtain (1966). When he is captured, Piotr becomes his defender, trying to save him from being hanged.
It's a bleak world, apparently devoid of meaning, painted by Kieslowski and his co-writer Krzysztof Piesiewicz. A spectator looking for a character to root for might leave the film empty-handed. Piotr's perspective is the one closest to the filmmakers, which is not surprising since Piesiewicz was a lawyer himself. Judicial matters are crucial in other Kieslowski films, like No End (Bez konca 1984) and Three Colours Red (Trois coleurs rouge1994) The film made quite an impact on the authorities and was instrumental in getting capital punishment suspended for five years. It was finally abolished in 1997.
The Style of A Short Film About Killing
A major asset of A Short Story About Killing is how coolly observational it is. There are hardly any attempts to play on the spectator's emotions. One of the main speeches in the movie even occurs off-camera and is only referred to in the dialogue later. This is a work about the principles of killing, not a film that tells you to sympathise with anyone.
One of the most essential factors in depicting the unblinking cruelty of the film is the cinematography by Slawomir Idziak. He insisted on using a large number of green filters to distort the colour palette and reduce what is visible in the frame. From the first shot to the last, we're trapped in a nightmare where everything plays out according to a cold logic where one person's will to change the system won't make much of a difference.
The ominous music by Zbigniew Preisner adds to the oppressive mood as well. As the title suggests, it's not a very long film, but the 84 minutes are packed with arresting images and sounds. The storyline differs somewhat from the Decalogue version, and they are both worth seeing.
27th of June 2021 would have been Kieslowski's 80th birthday. The occasion was commemorated by the National Centre for Film Culture in Łódź with an interactive multimedia exhibition and screenings of some of his films. In some circles, his reputation seems to depend on the vastly inferior Colour trilogy, and it is highly recommendable to check out his earlier, more demanding works as well.