Cinema Regained is the name of the IFFR section dedicated to living film history. This is where restored classics and unknown masterpieces, documentaries about celebrated filmmakers, and experimental explorations of cinema's heritage meet and play, at least according to the programme. It is the part of the programme where Judit Elek's debut feature was screened. Two other films will be covered here, along with an intruder presented in the Harbour section but still has a strong connection to the Cinema Regained part of the festival. They will present their own cinematic reflections in different ways.
Inferno Rosso: Joe D'Amato on the Road of Excess is a documentary about the infamous Italian director and cinematographer Joe d'Amato. Directed by Manlio Gomarasca and Massimiliano Zanin, the film gives a brief glimpse into his career. Born as Aristide Massacces in 1936, he worked in various genres such as horror, spaghetti westerns, soft, and some not so soft porn. He was also a man of numerous aliases. The documentary aims to paint a portrait of him, interviewing people close to him or others who have more or less illuminating thoughts on his oeuvre. One of his first experiences in cinema was as a still photographer on Renoir's Le carosse d'or (1952)
Among the interviewees, we find people like Michele Soavi, Lamberto Bava, Tinto Brass and Eli Roth. One of d'Amato's earliest ventures as a director was the Emanuelle features he made with Laura Gemser. Following on (or cashing in) on the success of the Emmanuelle films with Sylvia Kristel. One M was dropped to avoid legal issues. 1A bit confusingly, Gemser appeared in an Emmanuelle film with Sylvia Kristel as well. These were the porn works that d'Amato was proud of instead of the hardcore film, made later to pay the bills. The subsequent years were spent on horror films like Anthropophagus (1980), with the notorious scene where a man rips the fetus from a pregnant woman and eats it.
The talking heads are a mixed bag. The Italian ones are quite informative, whereas some others come off as a bit perplexing. Jean-Francois Rauger of Cinémathèque Francaise applies an auteurist approach which is amusing considering that d'Amato himself in the interviews claims that he basically saw himself as a cinematographer. Overall Inferno Rosso: Joe D'Amato on the Road of Excess is an interesting documentary where you are still left with the feeling that something is missing.
Ida Lupino
Ida Lupino: Gentlemen & Miss Lupino is a documentary about the actress and director Ida Lupino. It's directed by Clara and Julia Kuperberg and focuses on Lupino's director career. Most people will recognize her as an actress in films like They Drive by Night (1940), The Big Knife (1955), and above all, On Dangerous Ground (1951). On the latter, Lupino served as a director for several days when Nicholas Ray was ill. The documentary is trying to make a case for Lupino as an accomplished and groundbreaking director who didn't get the recognition she deserved. Similar arguments to the ones postulated in the book Ida Lupino, Director: Her Art and Resilience in Times of Transition by Therese Grisham and Julie Grossman.
It is no surprise that the latter appears in the film. She points out that Lupino would direct films about topics other directors shied away from, like rape, bigamy and unwed mothers. With films like Outrage (1950), The Bigamist and The Hitch-Hiker (1953), Lupino displayed the capacity to treat controversial themes and the ability to have a distinctive style with a low budget. The Hitch-Hiker was the first noir ever directed by a woman. She was quite prolific and would later direct several TV episodes from numerous shows. When Ida Lupino joined the Director Guild of America, the sessions would open with the phrase "Gentlemen & Miss Lupino" since she was the sole woman in the union.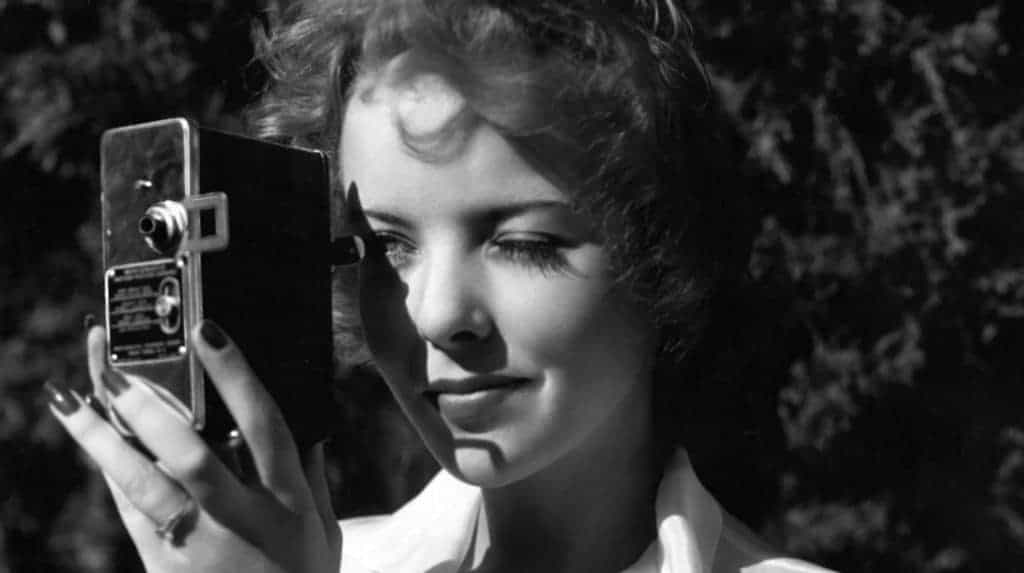 in 1948, Lupino and her husband, Collier Young, formed their own production company called Filmakers.Inc. As with D'Amato, there is an m missing in the name, but it's safe to say that the reason is a different one. Under that name, twelve films were produced, several of them directed by Lupino. In only 52 minutes, Ida Lupino: Gentlemen & Miss Lupino manages to paint a comprehensive portrait of its subject. Whether the praise heaped on Lupino's directorial efforts are warranted or slightly exaggerated is a matter of preference.
Cinematic reflections in the Harbour section
The third and final work is Edgar Pêra's Kinorama – Beyond the Walls of the Real. It is based on a retrospective that IFFR had of the director in 2019. It's the final part of an investigation of what it means to be a spectator. Several artists, critics, and writers contribute, including Olaf Möller, the Cinema Regained section programmer. Maybe that's why it ended up in the Harbour section instead. The work is presented as a self-reflexive 3D movie, meaning that it's made in 3D, which is also one of the main topics. I could only see the 2D version, which may have impacted me as a spectator.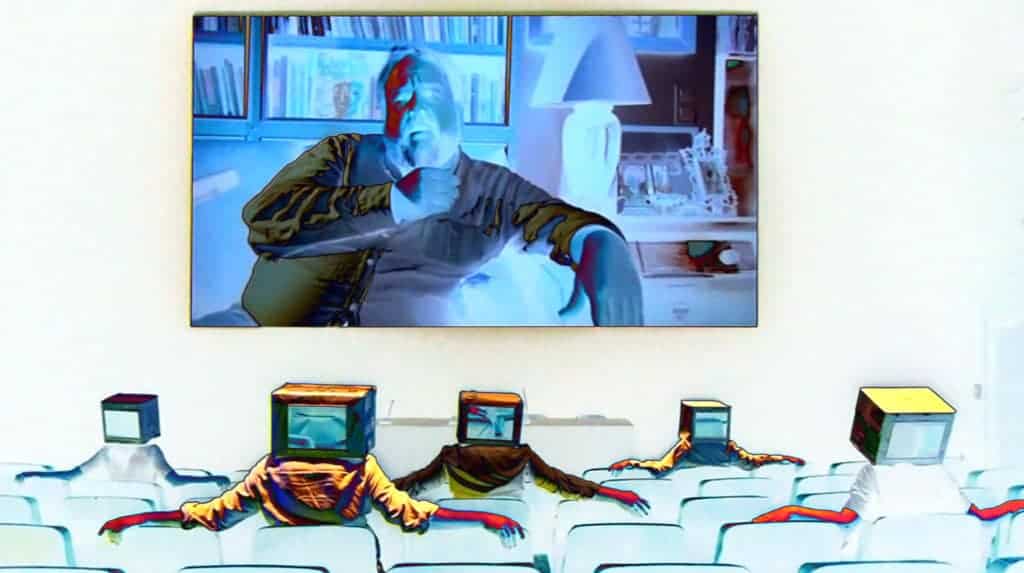 Long live Cinesapiens!
The headline is one of several examples of statements flashing on the screen, along with Long live Kryptocelluloids and others. Otherwise, the film concerns what the 3D experience is like. There are suggestions that 3D provides a new thinking space and ruins narrative cinema. "I can't immerse myself in 3D" is one of the quotes. The whole affair might have been more interesting if I had been able to see it in all its dimensions, even if I'm very sceptical of 3D with one huge exception. Overall the Cinema Regained section provides an opportunity not only to look back on classics but possibly view them in a different light.