A Human Position is the sophomore effort of Anders Emblem, who I interviewed here following his debut feature Hurry Slowly (Skynd deg sakte 2018). After its premiere at the Tromsö film festival, it was presented at IFFR that, once again, was forced to go digital this year. That is a problem for all films since that's not a proper way to watch anything serious, but some works suffer more than others. Emblem's film is a quintessential case in that regard. Set in the director's home town, Ålesund, the film's pace invites the old cliché of watching paint dry. A fact that is clear to the director since he includes a scene where the main character, Asta, is doing just that.
Asta (Amalie Ibsen Jensen) lives with Live (Maria Agmuwaro) in a lofty apartment. Asta is returning to her work as a reporter for the local paper while Live renovates furniture and enjoys herself playing the organ that seems to have been left in the apartment by the landlord. The relationship between the girls is not crystal clear, but Live appears to have feelings for Asta that goes beyond friendship. The stories Asta covers are relatively mundane, like conducting interviews with the football team coach. One day she stumbles on the story of Aslan, an immigrant who was expedited from Norway because of his employer. Will this story give Asta the purpose that seems missing in her life?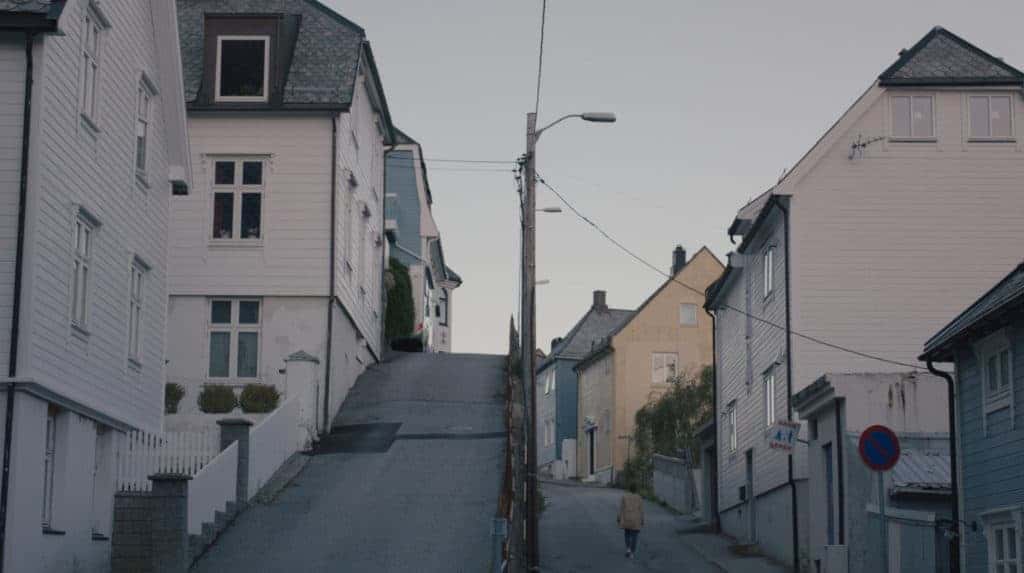 The serenity of A Human Position
This depiction of the story seems to point to a dramatic event rupturing the lull of the sleepy town the girls are living in. Nothing could be further from the truth. Emblem's construction is built by tableaux of the town where the protagonist eventually appears, combined with angular shots from the girls' apartment. The case with Aslan sends Asta on a mostly bureaucratic search for the truth and how the Norwegian law works and won't lead to any conclusion. There's a distinctly retro feeling with the girls playing an old wooden Labyrinth game and in the music that Live plays. There are indications of depression or trauma in Asta's life, the nature of which is not entirely clear.
The cinematography brings Chantal Akerman to mind, and if one wanted to be uncharitable, one could dismiss the film as a subpar imitation. What is clear is that just like EAMI by Paz Encina, this is a film that warrants a big cinema screen to reach its full potential. Watching it on a TV screen is close to Denis Villeneuve's metaphor of driving a speedboat in a bathtub., even though it would be a slow boat in this case. In one scene, the two girls discuss the best thing about Norway. Asta mentions the welfare society. As opposed to that other Norwegian film, this is a mature work that is meticulously conceived.
A Human Position was screened in the Bright Future section of the IFFR.