The history of Hungarian cinema is filled with great cinematographers. Gábor Medvigy, who died on the 27th of August, was one of the most prominent. He was born in 1957, took a Photographer's exam in 1979, and started working for the state company Mafilm. Between 1983 and 1986, he studied cinematography at the Academy of Theater and Film in the class of Lajos Koltai. In 2001, he started teaching at the University of Theater and Film. He won the Hungarian Film Critics Award four times, the last time in 2008. He won the Béla Balázs Award in 1992 and was chosen cinematographer of the year in 1995.
His first job as a cinematographer was on Zoltán Kamondi's short Kiki és a hímek (1987). They would go on to make several films together, such as Halálutak és angyalok (1991), Kísértések (2002), and Dolina (2007). Medvigy said in an interview that they eventually worked so well together that it sufficed to look at one another to understand what they wanted. In 1988, Medvigy would lens his first feature, Damnation (Karhozát), directed by Béla Tarr. That was the first of three collaborations between the two. Returning to the aforementioned interview, it's evident that those three collaborations were less smooth. Still, many associate Medvigy with the Tarr films. The other two were Sátántangó (1994) and Werckmeister Harmóniak (2000)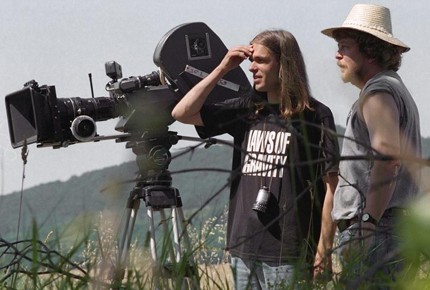 Medvigy only worked with Gyula Maár once, on Töredék (2007), but it's a partnership which he valued highly. He claimed that three days working with Maár was equivalent to two semesters of University education. In my mind, one of the most artistically fruitful partnerships was the one with Atilla Janisch. Medvigy shot his two colour films, Long Twilight (Hosszú alkony 1997) and After the Day Before (Másnap 2004). I wrote about the former, which is a favourite of mine. Both films boast glorious images which match the director's vision perfectly.
When asked about which cinematographer he would consider a master of the trade, his answer was János Toth. It is fitting that his last film, which he also co-directed with Csaba Bollók, was a portrait of Toth. It is called A Kinematográfus and was released last year. The films shot by Gábor Medvigy will stay important and relevant for many years to come. In a country full of outstanding cinematographers, he was one of the greatest. Several of the films he lensed are available on Eastern European Movies.