My first visit to what is commonly labelled Stockholm of Southern Europe began with the second film presented in the competition of this year's Venice Film Festival, El Conde, by Pablo Larrain. The director is known for brilliant films such as Fuga (2006), Tony Manero (2008), and Post Mortem (2010). His recent output has been of considerably lower quality and has occasionally sparked disapproval of Lanthimosian proportions. His latest work is a film about Augusto Pinochet. In this version, he is not dead but has lived as a vampire for 250 years. It's not the first film with the premise of a long-living protagonist. The insufferable Orlando (1992) and the excellent Psyché (1980) come to mind.
We will meet Pinochet and his family, which is a handful. Among them are his ill-tempered wife and his children. The latter don't seem to accomplish much, and their father seems mostly irritated by them. The most compelling character is the butler, Fyodor (Alfredo Castro), and the best moments in the film are the dialogues between Fyodor and his master. There is also an accountant of the unusual kind. Pretty early on, we see Pinochet fake his own death so he can live on without fear or intervention. The whole affair is narrated by a very well-known figure, who is not only instantly recognisable but not that difficult to guess in advance either and becomes a bit on the nose.
In several of Larrain's earlier films, not only the aforementioned Post Mortem but also No (2012), the shadow of the dictator serves as a subtext, and El Conde feels like something that once was subtle is now being presented in a crude and gauche manner. It's shot in B&W, which is technically proficient, but might not lose that much when the film is presented on Netflix on the 15th of September. At least, that was my feeling watching it at the far-from-ideal Pala Biennale. Maybe it would have worked better as a series. In any case, none of the thespians can be faulted.
As opposed to Cannes, the Venice Festival is not above screening Netflix films, but they had a much better film last year.
Cannes didn't show any interest in screening the latest films by Woody Allen (made in France and in French) or Roman Polanski either. In an interview, the Mostra director Alberto Barbera eloquently explained why he didn't see a problem in selecting their respective films, at least for moral reasons. The Palace takes place at an über-fancy hotel for the richest. It is set on New Year's Eve in 1999, and Y2K is a primary factor in the film. Among the ageing stars of the film, one notices John Cleese. Will this be as funny as some people find Fawlty Towers? Sadly, no. I don't even know how to begin to describe what is faulty in this disaster of a film.
A stressed-out hotel manager named Hanseuli Kopf (Oliver Masucci) starts the film by giving his staff a speech in the vein of the beginning of Full Metal Jacket (1987). Then his problems pile up on top of each other, ranging from an angry Mr Crush (Mickey Rourke) insisting on a room he hasn't reserved to a marquise (Fanny Ardant) whose dog can only defecate on grass, which the staff must provide. Throw in some shady Russians in the mix, and you have some of the ingredients supposed to provide laughter in this attempt at satirical comedy.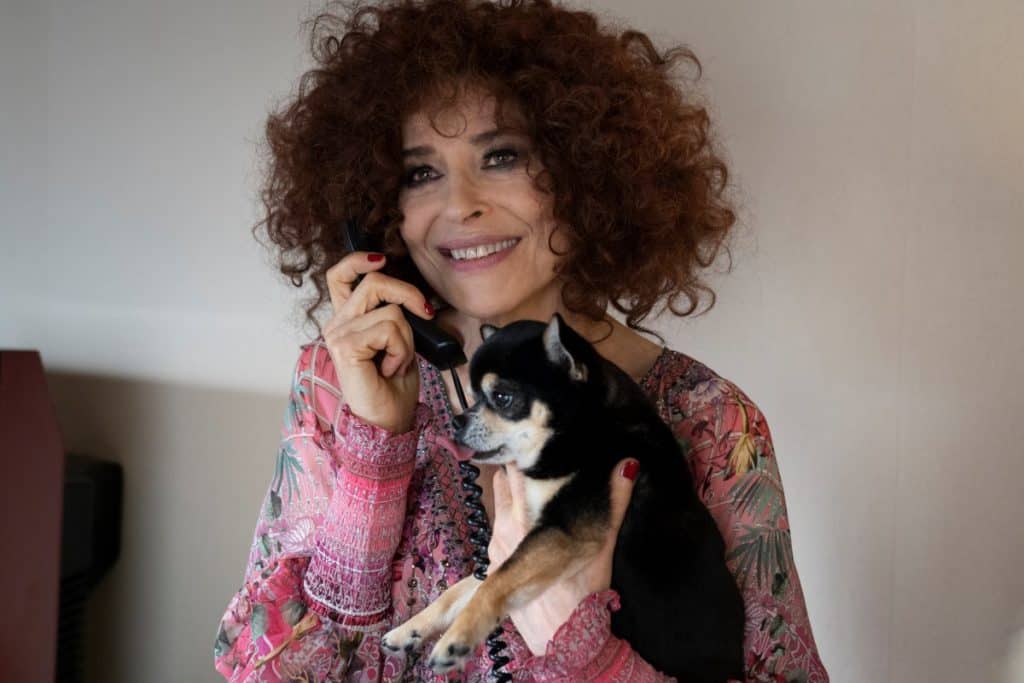 It's a futile task to describe how inept the film is. It boggles the mind that Jerzy Skolimowski was involved in the script and that the considerable talent behind the camera (Pawel Edelman, Hervé de Luze and others) didn't manage to have a positive impact on the film either. The satire is obvious and pointless. That the comedy is crude is not a problem, but the fact that it's obvious is a major one. The Marquise's dog will defecate on her bed; a plastic surgeon has made some guests' faces, but nothing ever comes out of those elements. This film is for people who think the Police Academy films were too elitist.
If the machination of the plotline resembles Tati's Playtime (1967), imagine that film remade by Michael Bay without the wit and subtlety of the Transformer films. The Palace makes Triangle of Sadness look like a master class in restraint and intellectual satire. There is absolutely no reason to subject yourself to this film, not even on streaming. Alberto Barbera commented after the screening that he had told Polanski that the film was weak but that he still thinks the critics were mean. They were not.
The first day of the Mostra was not a good one. There would be much better films coming very soon, though.