1Interview with João Pedro Rodrigues Will-o'-the-Wisp (Fogo-Fátuo), reviewed here, is the latest film by João Pedro Rodrigues. It opened in the Quinzaine des réalisateurs section in Cannes this year. The film clocks in at 67 minutes and is consistently lightweight in the best possible meaning of the word. I had the opportunity to interview the director a few days after the screening.
How did you approach the filming style and cinematography?
I worked with the same cinematographer (Rui Pocas) from the start, so he was very easy to work with. With this one, we had specific references to paintings and painters like The Abduction of Ganymede by Rubens, but with an inverted pose. We also had nonexistent paintings. We spent a lot of time inventing fake paintings by real painters, like a pastiche.
It was a film that was really fun to make, and I think everybody had a lot of fun shooting it. We had a very low budget, and I made it fast. We just had two weeks and two days of shooting, which is short for a feature. It was very fast for me, but it was so pleasurable to make, and I think you can see that in the film. I was looking forward to the premiere, and I think the reaction was explosive.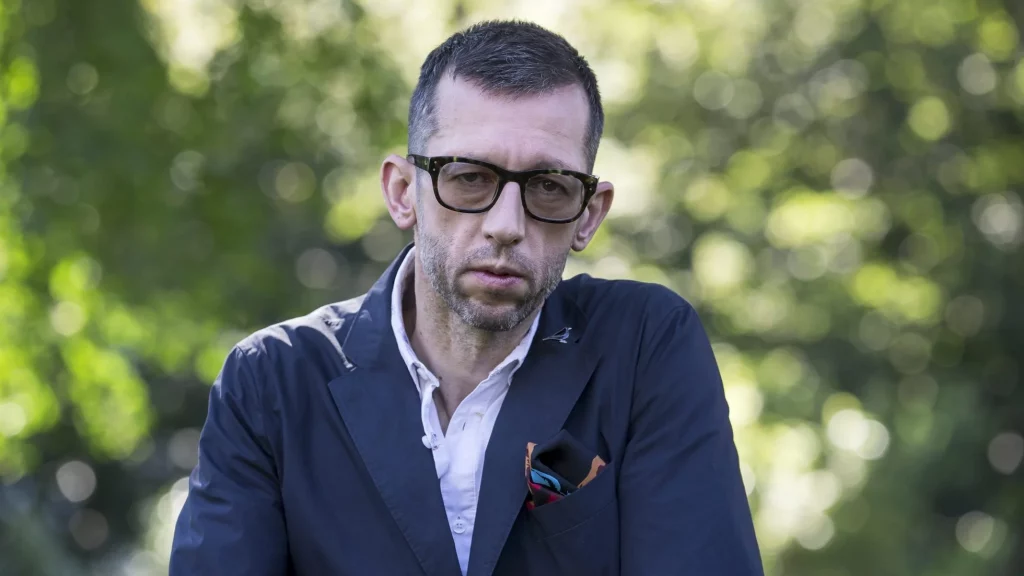 This is more like a tableau film compared to many of your earlier ones. Do you feel your style has become more contemplative, almost like a Manoel de Oliveira style?
Oliveira is definitely a reference for me. It depends. Composition is something that I care about. I think I learned about telling stories not only by watching films but also by looking at paintings. For me, it's essential to be precise when framing, so I think it's something natural in me and my work with the cinematographer. I know very well what I want to do and how I want to film a scene whenever I start filming, so everything is well prepared. I think it's natural for me. I like films where you can see that the director actually cares about the composition.
I was thinking about the Greta Thunberg quote. Was it supposed to be ironic? Initially, it felt like that, but then I wasn't sure. And the audience, who was quite vocal in other scenes, didn't seem to find it funny.
Of course, it's ironic. You see the black faces from the painting (The Bridal Masquerade) when he says, "The eyes of all future generations are upon you", and then you have the African sculpture. Then there is the representation with the chandeliers and the black slaves, so, of course, it's ironic.
Do you have another film coming up?
I just finished another film. Because of COVID, I had two films, and they both got delayed. It's sort of a portrait of Lisbon based on a founding film of the Portuguese New Cinema, which is the equivalent to the New Wave in France from 1963. It was shot in the neighbourhood where I live in Lisbon, and the director was my teacher at Film school. It's a fictional film, but it's sort of a portrait of Lisbon nowadays. That one was really affected by COVID in the sense that it's something that is in the film. We started shooting in 2019, and then we kept shooting and interrupting because of COVID. It's sort of like a haunted film.
What do you expect the reception for this film to be in Portugal? '
I hope people laugh as much as they did here. I was hoping that people would laugh but not like what happened the night of the premiere.