A Swedish critic in Cannes told me that his first visit to the festival was in 1998 and that three directors in this year's competition were already present. Nanni Moretti, the ubiquitous Ken Loach, and Todd Haynes with Velvet Goldmine. The latter presented May December in this year's competition. Starring Julianne Moore and Natalie Portman, the former plays Gracie, who caused a scandal two decades ago with her romance with Joe, 23 years her junior. Portman portrays the famous actress Elisabeth, who will play Gracie in a film about the case, and therefore visits her hometown to do research. Tensions will ensue, not always of the unpredictable kind.
In an interview, the director said, "It's hard not to think about films like Persona". I can not say that I experienced any such difficulties. 3 Women (1977) would be a closer comparison even though the drab American environment is handled with an unappealing TV aesthetic here, unlike the dreamy atmosphere in Altman's film. However, there was another film I kept thinking about from the start, Joseph Losey's The Go-Between (1971), and for a particular reason: Michelle Legrand's iconic score is used throughout May December, even though Marcelo Zarvos is credited for the music. It starts during the very first seconds, and to be honest, it was the main thing I was thinking about during the movie's duration.
It's anybody's guess why Legrand's commanding score was used and why it dominates the film to such an extent. One could also wonder why someone would like to redirect the spectator's attention towards a film that is vastly superior to your own. Roy Andersson did the same towards the end of A Pigeon Sat on a Branch Reflecting on Existence (En duva satt på en green och funderade på tillvaron 2014), where he utilises Ashley Beaumont's Shimmy Boy, which any cinephile would recognise from the final scene of Viridiana (1961). Andersson would talk about this in interviews as if the inclusion of the song really added something to his film.
May December be worth it?
Elisabeth spends some time with Gracie and interviews her ex-husband, as well. Gradually, more things will be revealed about the circumstances surrounding the relationship. She visits the pet shop where the two worked and were caught in the act. Joe was only thirteen at the time. A fact that Gracie tries to brush off by trying to remind him that he seduced her. Unsurprisingly, the relationship is not as rosy as it may first appear. The script by first-time feature writer Samy Burch offers few insights, and the whole project was put together with a short preparation period and 23 days of shooting. This may account for the somewhat unfinished feeling of the final work.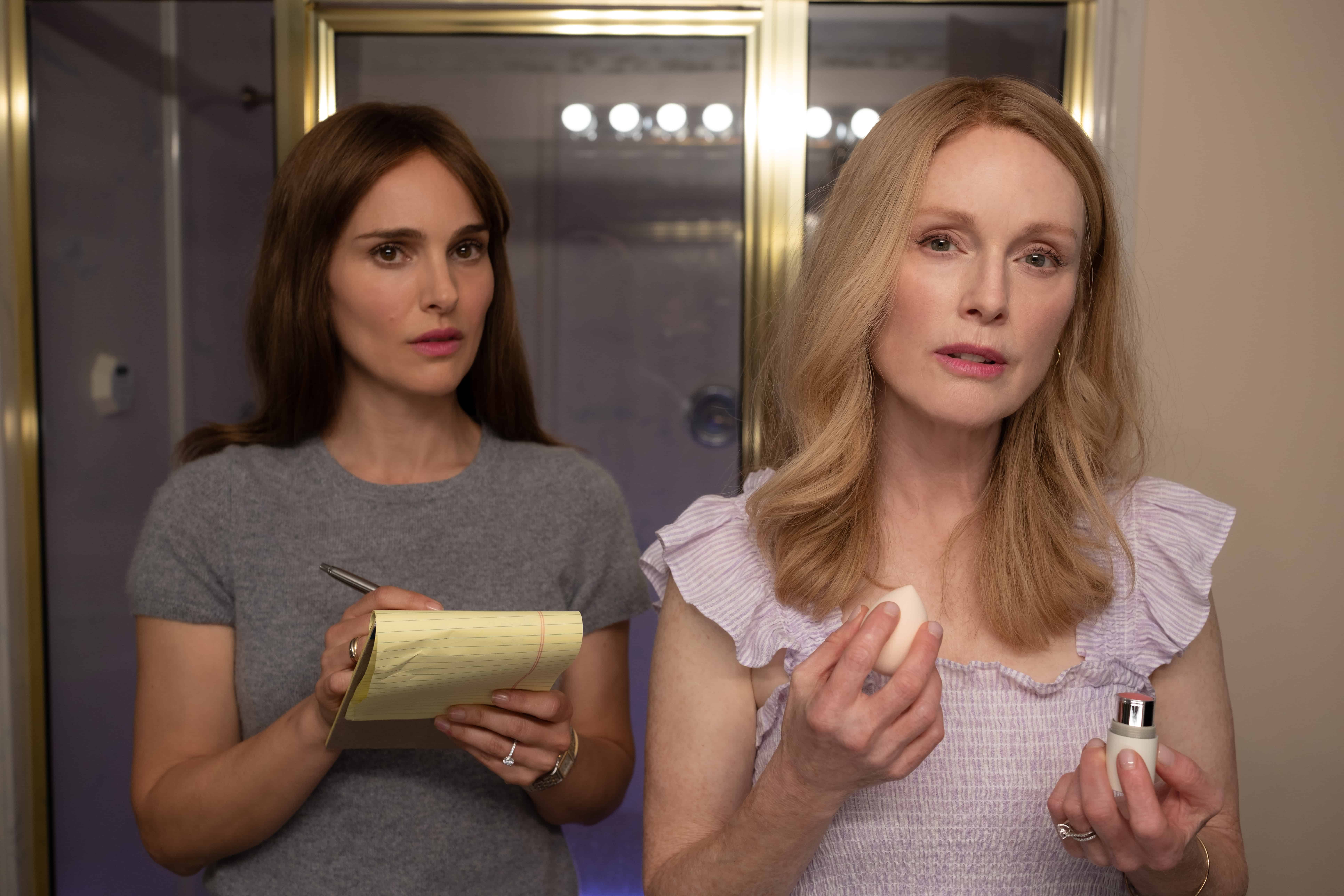 It would be possible to make comparisons with Losey's work, even though the underage character there was merely a witness and unwilling messenger to the affair, but that would be a stretch. The mind rather wanders to more muddled works like the aforementioned Altman's Images (1972). The unobtrusive cinematography by Kelly Reichardt regular Christopher Blauwelt doesn't add much depth to the proceedings either. The strongest part of May December is the acting, with extra credit to Charles Melton as Joe. Still, this attempt at meta-layers between different shapes of reality and fiction is easily forgotten. I was delighted when Haynes's debut feature, Poison, was released in 1991, but since then, I have struggled to find anything rewarding in his filmography.
The film didn't win any awards in the competition. I would have been fine with Melton being awarded for his unshowy performance.