Michel Piccoli è Morto
To write about Michel Piccoli is a daunting task. His filmography lists more than 200 roles. He worked with so many essential directors; it's impossible to name all of them. They were as distinctive as Alain Resnais, Jean-Luc Godard, Agnès Varda, Claude Chabrol, Jaques Rivette, Michel Deville, Alain Cavalier, Louis Malle, Claude Sautet, Jaques Doillon, and Leos Carax. And that's only a fraction of the French helmers he worked with. There were also collaborations with international filmmakers like Alfred Hitchcock, Marco Bellochio, Jerzy Skolimowski, Theo Angelopoulos, Ettore Scola, Yousef Chahine, and many others. Seven of his performances were in films by Marco Ferreri, including Dillinger è Morto.
The Early Years
Born in 1925, Piccoli commenced acting in the forties, in the theatre as well as in films. Early works with famous directors include Renoir's French Cancan (1955) Buñuel's La Mort en ce Jardin, the subsequent year, and Melville's Le Doulos 1962. The sixties would be the decade of his breakthrough with roles such as Paul in Godard's Le Mépris (1963), the creepy René in Costa-Gavras atypical thriller Compartiment Tueurs (1965) and above all the part as Henric Husson in Belle de Jour. (1967). The role of Husson, who introduces Séverine (Catherine Deneuve) to the world of prostitution, was one of several highlights in Piccoli's career.
Almost four decades later, the actor would reprise his role, but for Manoel de Oliveira in Belle Toujours (2006). Altogether he would make six films with Luis Buñuel. With Manoel de Oliveira he appeared in five films, counting the three minutes short Rencontre Unique (2007).
My five favourite Michel Piccoli roles
Les Créatures
In Agnès Varda's Les Créatures, Piccoli gets a rare chance to show his more playful side. In the role of Edgar, he has to navigate a world where the rules of the game always seem to change without order or explanations. The actor doesn't protect his character (he rarely did) but is more than game to dig into the challenges that Varda sets out for him, whether it involves talking to animals (where Piccoli provides the animals voices as well) or getting involved in random fights for no discernible reason.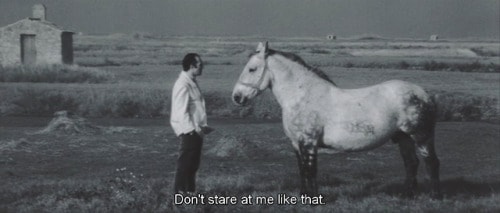 La Femme en Bleu
Michel Deville's reputation seems to be on the upswing now. That is a welcome revenge of sorts for a director who constantly made witty and engaging films, but rarely wore the Auteur badge on his sleeve. Outside France, he might be mostly known for his 1985 comedic thriller Péril en la Demeure, translated as "Death in a French Garden". A fact that delighted Deville, since he was a big fan of Peter Greenaway's The Draughtsman's Contract, which was released in France as "Meurtre Dans un Jardin Anglais". Piccoli has a small but pivotal role in the film. but the one that I want to focus on is La Femme en Bleu (1973).
As the musician Pierre, Piccoli once again delves deep down into his character's obsession, on this occasion caused by glimpsing the titular woman briefly. and then spending most of the film's running time, trying to track her down. He even engages his mistress (Lea Massari) in the process, who actually bears a striking resemblance to the blue-clad woman he is looking for. Hardly a main character to root for, but nonetheless captivating.
Génealogies d'un Crime
Raoul Ruiz's 1997 film, Généalogies d'un Crime is the bizarre story of a failed lawyer (Catherine Deneuve) who takes on difficult cases and repeatedly loses. She gets entangled with two rivalling psychiatrists played by Michel Piccoli and the equally brilliant Andrzej Seweryn. A scene where the two argue in an outdoor cafe, seated at different tables, is particularly hilarious. Throughout the film George Didier, as Piccoli's character is named, is constantly on the brink of madness, and will not stop at anything to prove his theories. It's one of the more accessible works by Ruiz, without sacrificing any complexity.
Belle Toujours and Je Rentre a La Maison
The above-mentioned film by Manoel de Oliveira is the second film of the Belle de Jour franchise. Almost 40 years after the events in the first film, Husson thinks he sees Séverine at a concert. He follows her, but she manages to avoid him. While trying to hunt her down, he frequents a bar where he engages in lengthy conversations with the bartender, played by Oliveira regular/relative Ricardo Trépa. Eventually, Husson manages to persuade Séverine to have dinner with him. One of the reasons is that she wants to find out what he whispered to her husband, all those years ago. Deneuve was approached but turned down the part, which instead is interpreted by Bulle Ogier.
This may be one of the best showcases of Piccoli's charisma, besides Oliveira's Je Rentre a La Maison (2001). The roles are short on dialogue, but the actor's presence lends the films their necessary gravity. The funniest, and most poignant homage to Michel Piccoli, may be the tweet by Le Mépris costar, Brigitte Bardot. " Michel Piccoli. Il avait du talent, de l'humour et il aimait mes fesses."