The first time I went to the Nowe Horyzonty festival was in 2014. The very first film I saw there was Butter On The Latch (2014) by Josephine Decker. I was unexpectedly blown away by the film — one of those rare instances when cinema felt reborn to me. The same thing would happen with Bait five years later. Thou Wast Mild and Lovely (2014) and Madeline's Madeline (2018) confirmed that Decker is one of the most exciting directors working today. When the new project, Shirley, was announced, with big names like Elisabeth Moss and Michael Stuhlbarg, it felt apparent that it would be less bold than Decker's earlier films. Would it also necessarily mean it would be less intriguing?
The script by Sarah Gubbins tells the story of the fictive couple Fred and Rose Nemser ( Logan Lerman and Odessa Young), who spends the summer of 1948 with the author Shirley Jackson (Moss) and her husband Stanley (Stuhlbarg). 1The Berlinale programme, inexplicably, sets the story in 1964. Once there, they get caught up in the turmoil that is their relationship while Fred is working as Stanley's assistant. On the train heading towards their destination, Rose reads Jackson's short story, The Lottery and seems to get a visceral reaction from it.
– They stoned her Fred. The whole town.

– That's creepy.

– It's terrific!
Then she touches his crotch, and moments later, they make love on the train. When Rose meets Shirley Jackson, she says that the story made her feel "thrillingly horrible". Shirley immediately notices that Rose is pregnant, even though she hasn't told anyone. Thus a bond is established between the two women. She runs errands for Shirley and tries to cover for her behaviour. Meanwhile, the writer is stuck at home, working on what would become Hangsaman. Rose seems to be the inspiration for the story. We watch it play out with Odessa Young embodying Paula. The way it's outlined in the film bears little resemblance to the novel that would be published in 1951. A fact that Decker also acknowledges.
This quote from the hilarious series Newsreaders came to my mind during the first half of the film. Most of it is dedicated to the endless quarrelling between Shirley and Stanley. It feels like something we've seen numerous times before, not only in Edward Albee's play. It wears thin pretty quickly. It's not until nearly halfway through the film, in an outdoors scene, when the relationship between the two women really blossoms in a sequence that involves death cap mushrooms The scene is not only expertly performed by Moss and Young but is also one of the best showcases for Sturla Brandth Grøvlen's cinematography. In other sequences, I often miss Ashley Connor's lensing from the earlier films.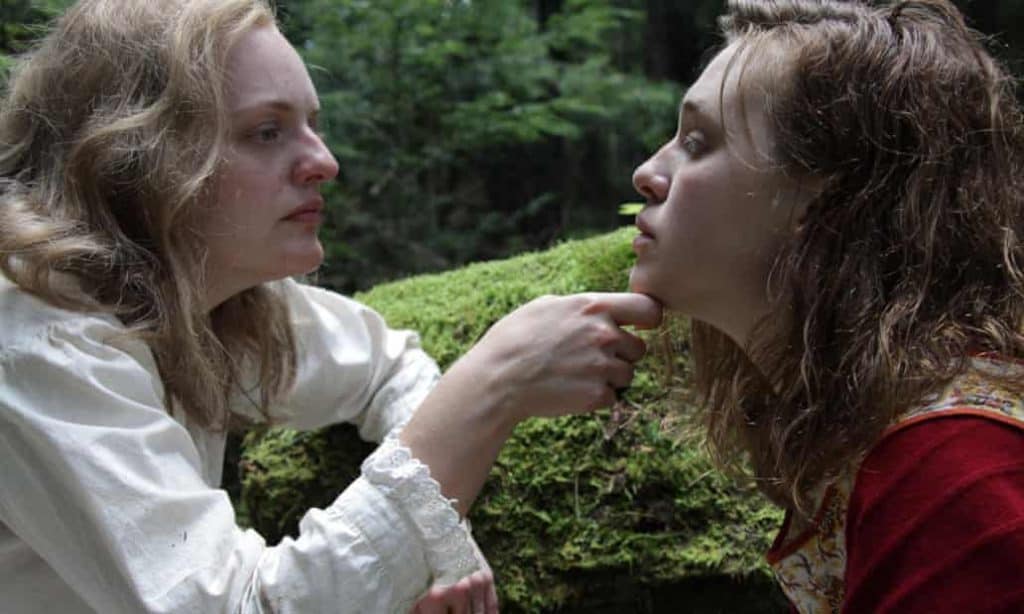 Fred asks Stanley to read his dissertation, hoping that the approval would bolster his academic career. The reaction is not what Fred had hoped for. During dinner, with a visibly amused Shirley, Stanley labels his work derivative. After Fred leaves, Shirley asks if it was really that bad. The answer is "You know how insulted I am by mediocrity. If it was awful, that would have been exciting but terrifically competent. There's no excuse for that." During this scene, It came to me that it was precisely the feeling I had about the film I was watching. It would be easy to use "terrifically competent" as a snappy last line in a review. I will abstain from doing so.
Surely you can't be serious?

I am serious, and don't call me Shirley!
The case of Shirley is not weird enough
The main problem with the film lies in the way the story is written. Based on the novel by Susan Scarf Merrell, the script by first-time writer Sarah Gubbins is probably the most cohesive that Decker has worked with so far. However, it works like a corset that stops the director from entering her unpredictable, exhilarating cinematic universe. It has been pointed out that the story takes liberties with Jackson's life. Her children do not appear at all, even though she frequently wrote about motherhood.
That kind of poetic license doesn't worry me. Worse is the fact that the script takes itself very seriously. The dialogue too often deteriorates into talking points. The attempt to reduce Hangsaman to a story about "girls who can not make the world see them" doesn't ring true and, worse, make Jackson's works feel more one-dimensional than they are. Reducing them to statements about women, in general, is ironic in a story about someone who was the primary breadwinner in the household. When it comes to the attempt at invoking the fictional universe of Jackson, the film falls short as well. It's certainly not a match for a truly absorbing film like Hosszú Alkony (Long Twilight 1997) by Attila Janisch. 
Talking about the thespians, the meatiest roles are the female ones. Moss is as good as can be expected. The outstanding achievement for me was Odessa Young. In a part with many trap doors, she truly elevates the material, and I would love to see her work with Decker again. So, for me, this film was a major disappointment. Josephine Decker has set a high bar for herself. Now she presents a film that is more mainstream and script oriented than her previous works. Hopefully, she will return with projects that are terrific, competent, as well as unpredictable and exhilarating.
The film may work differently for those who haven't seen a Decker film before. For a different view of the film, here's a review written by flickfilosopher.