Josephine Decker seems like an unlikely choice to direct a film rated PG 13, but with The Sky Is Everywhere, it is a fact. Based on Jandy Nelson's eponymous YA novel, the story follows Lennie (Gracie Kaufman), whose older sister Bailey recently died. The cause of death was the same heart condition that caused their mother's demise. Now Lennie lives with her grandma (Cherry Jones) and her pot-smoking uncle (Jason Segel), and we will watch her grapple with her grief. Meanwhile, there are two boys in her life, Bailey's former boyfriend Toby and newcomer Joe who shares her passion for playing the clarinet. She can share her grief with the former, but the latter seems far more exciting.
The first time we meet Joe, he plays the clarinet in a way that makes notes materialise and literally knocks the girls off their feet. This is only the first of many flights of fantasy that Decker will subject the spectator to. Lennie is challenged for her first chair position in the school orchestra by the school's mean girl. Still, she hardly cares and seems to have lost the ability to play as well. Her other obsession is Emily Brontë's Wuthering Heights which she constantly quotes. Later, she will listen to Bach in a field together with Joe, resulting in yet another supposedly magical scene with effects that became available to the director thanks to Apple's deep pockets.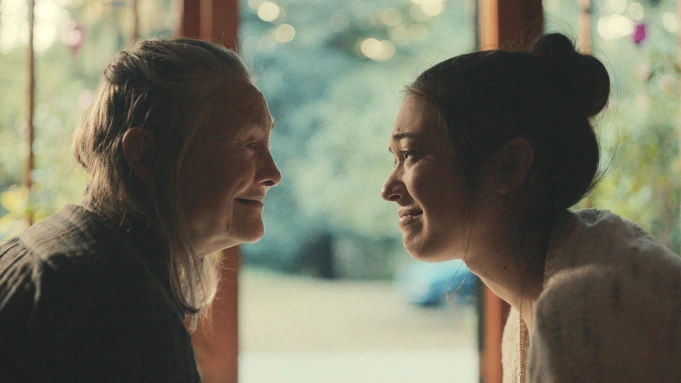 The Sky Is Everywhere Novel vs Film
The script was written by Nelson herself and was already finished when Decker came onboard. The novel, which I haven't read, is apparently a best-seller, but the script as it materialises in the film comes across as trite and rife with clichés. Something that is supposed to be offset or bolstered by Decker's and cinematographer Ava Berkofsky's handling of the material. The colours are over-saturated in a way that makes the effect feel annoyingly artificial more than anything else. At one point, I stopped and changed to another film to check if there was anything wrong with my settings. Unfortunately, the film's problems don't end there.
It is safe to say that if one were to google "YA film adaptation target audience", the first hit would not be The Disapproving Swede. Still, the reactions against the film have been quite harsh, even among self-proclaimed YA fans. One of the reasons might be that the film feels strained and contrived and rarely rings true. Sure, when Lennie reflects on her life and laments that she has been second chair not only in the band but also in her life (a sentiment quite close to the whining of the almost twice as old Julie in The Worst Person in The World), one could understand the feeling, but it doesn't really work in this context.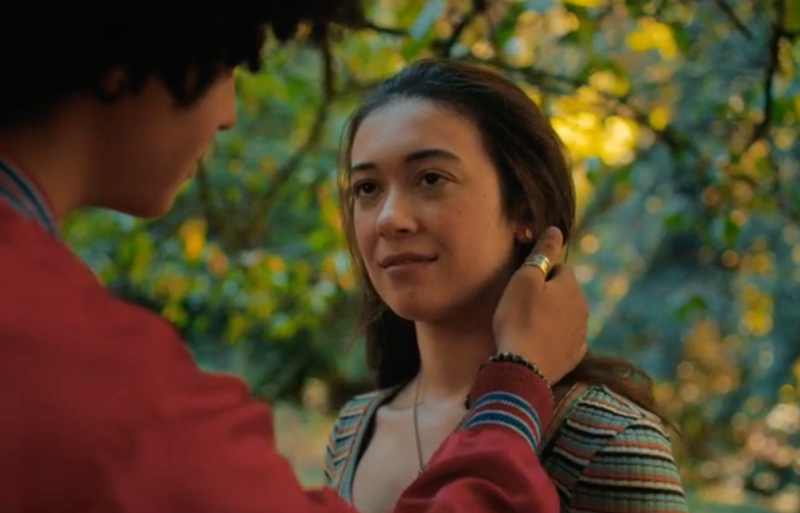 Far worse is a later scene which is supposed to show Lennie leaving her old life behind. What is intended as a scene of triumph and change merely feels like two actors going through the motions. The biggest problem with The Sky Is Everywhere is not that it might be made for a younger audience (It's actually difficult to see who will be ravished by this) but that hardly anything in the film feels genuine. When Decker made Shirley (2020), she said that even though the film was on a different level, budget-wise, than her first three films, she knew that she would still have to "pour her guts out" for the film to feel real.
Her latest film is further from that than ever before. It is twee rather than quirky, and it comes off as a work not only without guts but, more alarmingly, without a heart. Josephine Decker is a formidable talent whose first three films are among the most exciting of the last decade. Hopefully, she will soon tackle more challenging material that will bring out the best of her considerable talent.
The Sky Is Everywhere can be avoided on Apple TV+.