Tchaikovsky's Wife by Kirill Serebrennikov was the first film out in the 2022 Cannes Competition. As it happened, the two works I was excited about in the competition were screened on the first two days, the other being EO by Jerzy Skolimowski. Serebrennikov provided last year's competition with one of its best entries, Petrov's Flu. Would this year's contribution perform at the same dizzying heights as the previous film? It's the story of the tumultuous relationship between Pyotr Tchaikovsky (Odin Lund Biron) and his wife Antonina Miliukova (Alyona Mikhailova). It all begins with the composer's death in 1893 when it turns out that even as a corpse, he can still berate his spouse for the last time.
Around twenty years earlier, we see Antonina pursuing Tchaikovsky, who tries his best to deter her, but eventually decides to marry, for whatever reason—possibly using her as a beard to avoid speculations about his homosexuality. In any case, the marriage is not a happy one, but Antonina can't say she wasn't warned. What follows is a mystifying portrait of human obsession where the woman seems oblivious to the truth that everyone around her is trying to save her from. The marriage lasted until the composer's death, but he abandoned his wife after six weeks. It is unclear whether the concept of homosexuality was even fathomable to Antonina, but it's clear that she wouldn't take no for an answer.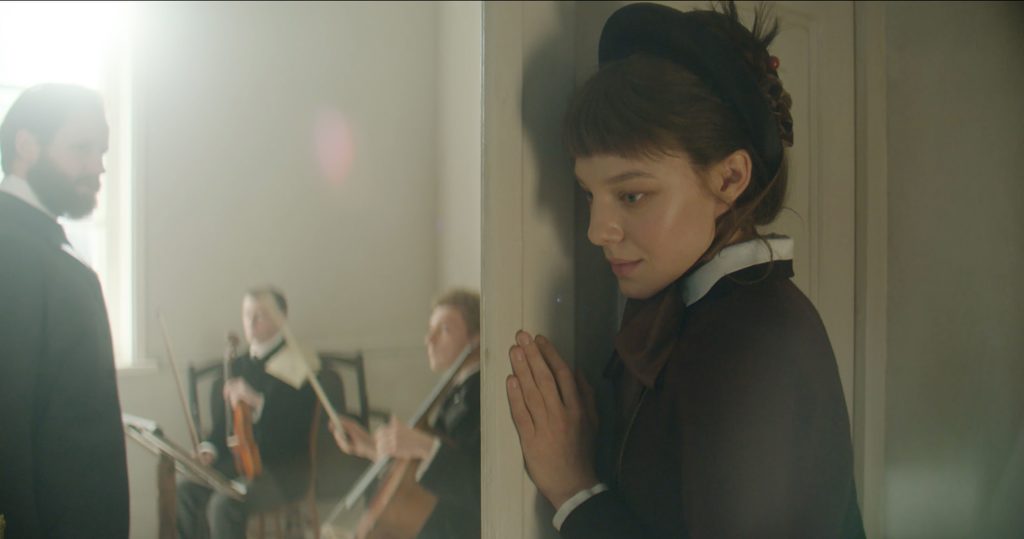 The story has been filmed before by Ken Russell in The Music Lovers (1971), with Glenda Jackson interpreting the role as the wife. Needless to say, the approach couldn't be more different. Anyone expecting (or hoping for) another Petrov's Flu. Extravaganza is bound to be disappointed. This is a more grounded work with fewer cinematic flights of fancy. However, Vladislav Opelyants's cinematography is still astounding. Once I settled into the style (which shouldn't be all that surprising, considering the way Serebrennikov constantly renews himself), I found more and more things to admire in the Mise-en-Scène. Better still, the film grew on me the more I reflected on it.
The Story of Tchaikovsky's Wife
I'm usually not someone who gets hung up on actors, but it is impossible to discuss Tchaikovsky's Wife without commenting on the astonishing performance of Alyona Mikhailova in the titular role. She not only throws herself in the role but also manages to make a highly peculiar character understandable without resorting to making her likeable. The latter might be why she was robbed of the award for best actress, which instead went to Zar Amir-Ebrahimi in the tepid Holy Spider for a part that was way more PC, with an agency that nobody could disapprove of. Serebrennikov's film has received some misguided flack for its portrayal of Antonina Miliukova.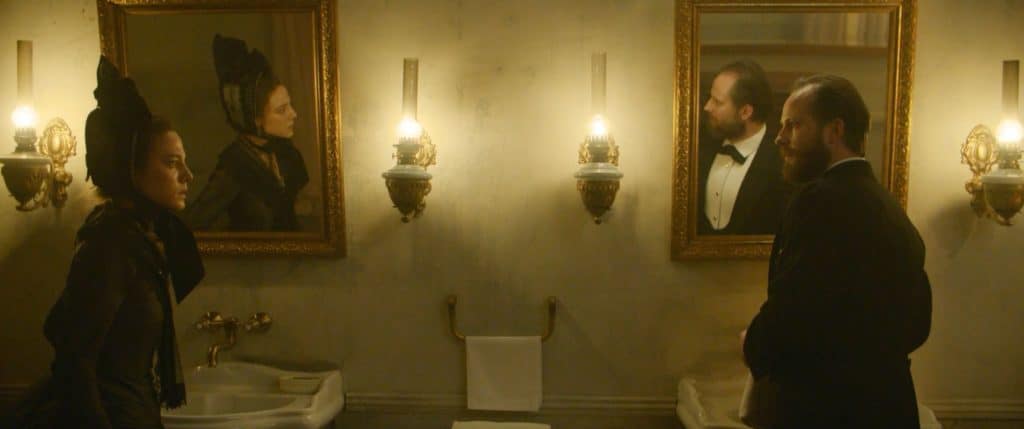 As I wrote in my teaser post about the film, this was the first time in a while when the director was able to attend the Cannes festival in person. After the ubiquitous standing ovation, he held a speech, unsurprisingly condemning the war in Ukraine. At the time of writing, he resides in Berlin and has new projects coming up in Western Europe. It remains to be seen how he will be able to adapt to the style and resources provided to him there. His next project is Limonov: The Ballad of Eddie, starring Ben Wishaw and Viktoria Miroshnichenko, written by Pawel Pawlikowski, after Emmanuel Carrère's best-selling novel. There are no reports on whether Opeylants will still be onboard.
Like last year, Serebrennikov's film didn't receive any awards, save for the CST artist prize for Opeylants for Petrov's Flu. Still, it was one of the very few highlights of this year's competition. Hopefully, the film will reach its proper audience in festivals and/or distribution. As opposed to last year's The Story of My Wife, the title is not ironic but actually focuses on the wife rather than the famous composer.