Today, one of Hungary's most cherished actresses, Mari Törőcsik, passed away after a long time of illness. Her career spans decades, and the reactions have been strong in Hungary from colleagues and politicians alike. She was born in Pély in 1935 as Marián Törőcsik. During her first year at college, she was given the role of Mari in Zoltán Fábri's Merry-Go-Round (Körhinta 1956). The story about a young girl trying to get out of an arranged marriage was an instant success. It played in Cannes, and her performance impressed both Jean Cocteau and Francois Truffaut, with the latter commenting, "Without the twenty-year-old artist knowing about it, she was the festival's biggest star. She would have deserved the Palme d'Or."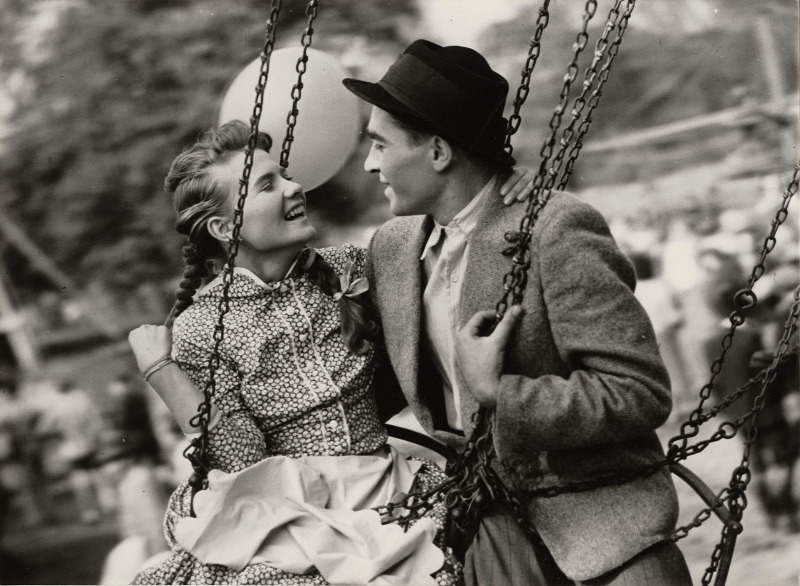 Two years later, she entered The National Theatre, where she would stay until 1978. She returned in 2002 and stayed until her death. She has approximately 130 theatre credits and more than 170 roles on the big screen. It's difficult to choose among the many highlights. In 1958 she played the eponymous role in the Kosztolányi adaptation, Édes Anna. Six years later, she would appear in another work adapted from the same author, Skylark (Pacsirta).
In 1968, she starred in her first collaboration with Miklós Jancsó. Silence and Cry (Csend És Kiáltás), In 1972, it was time for Istvan Gaál to employ her talent in Dead Landscape (Holt Vidék). Occasionally she made comedies like Péter Gardos' Whooping Cough (Szamárköhögés1987). I already wrote about Attila Janisch's Long Twilight
Mari Törőcsik and Miklós Jancsó
I decided to follow the rules and mention some other favourite Törőcsik roles. She would work with Jancsó twice. The most memorable part was the titular role in Electra my Love (Szerelmem Elektra 1974). The director is not primarily known as an actor's director, and this is a work where his long takes reached dizzying heights. The whole movie is comprised of 12 shots. Nevertheless, she managed to make a strong imprint on the story with a mixture of strength and vulnerability. Her performance is one of the most memorable in any Jancsó film. Her role in Silence and Cry is more subdued, but she is flawless there as well.
Karoly Makk's Love (Szerelem 1971) might be the most famous film she starred in. Based on Tibor Déry's novel, it tells the story of Luca, who takes care of her mother-in-law. Her husband, János, is in prison, but Luca works hard not to let the older woman know about it. She makes up a story about him being a director in the US and writes fake letters to console her. The story is set in the fifties, so it's no surprise that János' prison sentence is politically motivated. In fact, Luca is not even sure if he's alive. Szerelem is routinely mentioned among the greatest Hungarian films ever made. There are several reasons why.
The story is strong in itself, and it's intensified by the cinematic treatment. The cinematography by János Toth is exquisite, and György Sivo's editing creates a kaleidoscopic view where we are not sure what is memories or fantasies. Still, it wouldn't be the masterpiece that it is without Törőcsik's interpretation of Luca. There is a rare subtlety at work here. The fact that Luca is struggling with her own life while she still spends lots of energy keeping her mother-in-law's spirits up is supremely portrayed. Together with Lili Darvas, she received a Special Mention Award at Cannes in 1971.
The number of awards she received is virtually innumerable. Among them were The Kossuth prize and the Kossuth Grand Prix. The Béla Balázs prize and the Grand Prize of the Hungarian Academy of Arts are other examples. Internationally she won the Best Actress award at Cannes in 1976 for Deryné Hol Van? directed by her husband, Gyula Maár.1The award was tied with Dominique Sanda for L'eredità Ferramonti.Her last main role was in Aurora Borealis: Északi fény (2017) by Márta Mészáros. Mari Törőcsik will be remembered as one of the giants of Hungarian culture life, both in theatre and in cinema.