No Man is an Island – Except Bergman
The film Bergman Island derived its name from the famous Swedish director Bergman Island. Mr Island was well-known for angst-ridden films about religious doubt and spiritual loneliness. In the early sixties, he moved to the island of Fårö, where he would reside for the rest of his life. The French director Mia Hansen-Løve visited Fårö a few years ago with her ex-husband Olivier Assayas. The film's story concerns a filmmaking couple, Chris (Vicky Krieps) and Tony (Tim Roth) and their visit to the island to write the screenplays for their respective upcoming projects. Will the island render them the inspiration they seek? Chris expresses worries about the landscape being too beautiful.
They are greeted by people who tie everything to Bergman in clunky exposition scenes. "Here he shot so and so" "You will sleep in the bed from Scenes From a Marriage. The film that made millions of people divorce" There is Bergman memorabilia everywhere and even a Bergman safari. The Gotland Film Fund is listed as one of the producers, and the first half-hour or so amounts to little more than a commercial for Gotland and Fårö. Initially, there is a fairly long car ride sequence where the GPS mispronounces Swedish names. The duration of that scene made me wonder if it was meant as some kind of joke. The Swenglish spoken in later scenes confused me even more.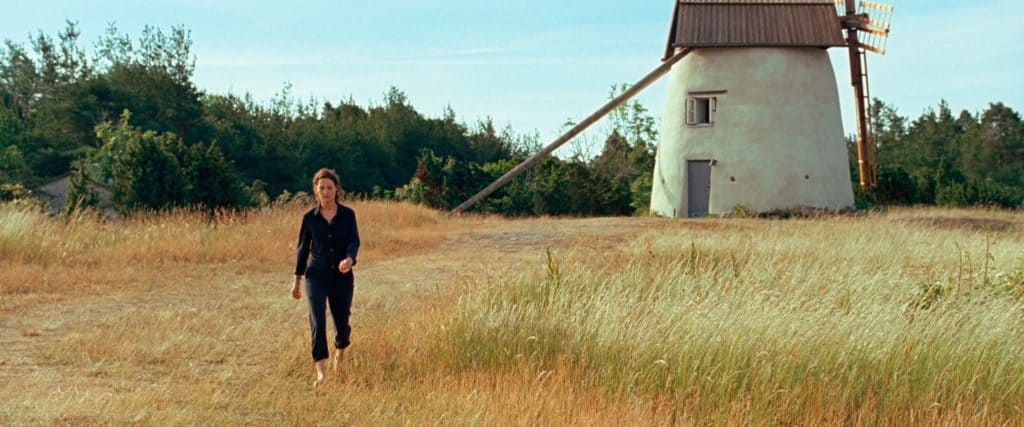 Bergman Island Cult?
Are there strange, horrible things going on under the calm surface? Is this actually a strange Bergman cult that will force the couple to go through a Bergmanesque Midsommar? No such luck. We will merely follow the couple on their paths on the island. They don't spend that much time together, which allows the local, Hampus to spend time with Chris. He offers her the chance to show the real Bergman stuff that the safari won't show. For a long while, I wondered where the film was going or if it was even going anywhere.
Then, relatively late in the film, Chris tells Tony about her script, which will also play on the screen. It is the story of Amy (Mia Wasikowska), who comes to the island to attend a friend's wedding, but the real reason she's going is to reunite with a former hub, Joseph (Anders Danielsen Lie). Now surely, the film will show its true motives with some captivating cinematic mise en abyme? But, yet again no. The story doesn't increase the profundity of the film one bit. There is a corny quality to the dialogue that makes you wonder if you are in some kind of subtle parody. With the end sequence, that possibility is slammed shut, as well.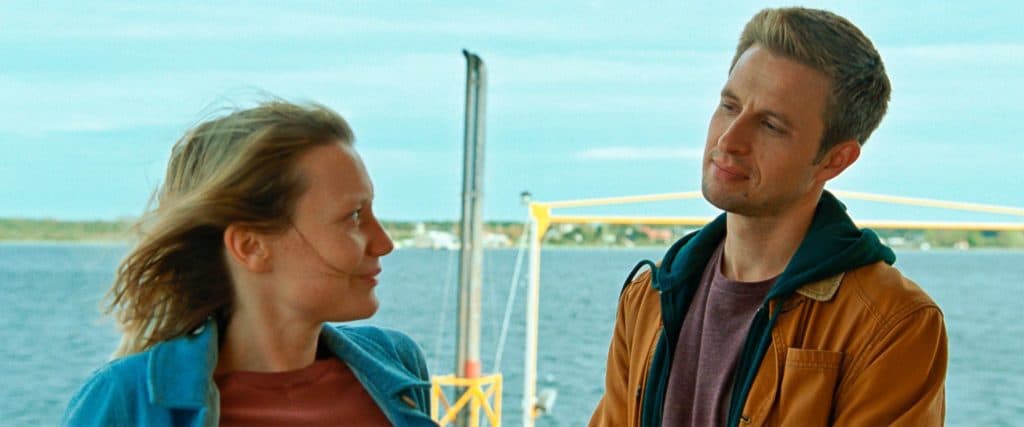 The Swedish Dispatch
Mia Hansen-Løve's second film, Le père de mes enfants (2009), is also set in the film world and contains a bizarre trip to the southern part of Sweden, called Skåne. A producer has to meet a Swedish "director genius" Stig Jansson, who is acting disorderly on set. The scene plays like a comedy skit with weird acting. I'm a huge fan of the director's debut feature, Tout est pardonné (2007) and talked to her after the screening, comparing the film to the works of Doillon and Garrel. She said she adored both but didn't aim to emulate anyone. I was sure she would become a great filmmaker, but I have struggled to connect with any of her films since then.
La Mère de mes Enfants
In one scene, some women discuss Bergman's role as a father and how he left the mothers of his many children to raise them. If that's not obvious enough, someone adds, "A woman wouldn't have been able to do that, for sure." With that in mind, it's a bit disheartening that Vicky Krieps is not given a more meaty role. Whereas Tim Roth muses through his part, Krieps deploys her alleged talents with the role, but the script does not do her any favours. The most amusing presence is veteran director Stig Björkman, director of Bakom Jalusin (1984) and more recently, the documentary about Ingrid Bergman (the actress, not Ingmar's wife) called Jag är Ingrid 2015).
The aforementioned Swenglish made me think of Lee Hazlewood very early on. An American singer who came to Sweden in the late sixties, like many other Americans. He became quite successful in Sweden but occasionally did nonsensical oddities such as "Let's Take a Walk Down Valhallavägen", including lyrics that would not be made today. When a woman with a guitar starts singing Hazlewood's Summer Wine in the film, I couldn't believe what I was hearing. And when the end credits are set to the terrible duet of "Vem Kan Segla Förutan Vind" (I Can Sail Without Wind), the film hits rock bottom with a loud thump. There is clearly no seduction of Ingmar Bergman going on here.