Jari Kuosmanen presented his debut feature, The Happiest Day in the Life of Olli Mäki (Hymyilevä mies), in 2016, where it won the Un Certain Regard top prize. Now he is back with his follow up in competition, Compartment No 6. (Hytti NRO 6) Laura (Seidi Haarla) is an archaeology student living in Moscow. She is in some kind of relationship with Irina, and they plan to go to Murmansk to see the petroglyphs there. It turns out that she has to go on her own, and Irina says she will join her later. However, when Laura tries to contact her during her voyage, she either doesn't answer or cuts the calls short.
The film is set sometime in the late nineties and based on the book by Rosa Liksom released in 2011. Laura will have to go on an old, uncomfortable train, and when she reaches the titular cabin, it soon becomes apparent that she will have to share it with Vadim (Yuriy Borisov). He looks loutish, drinks a lot and spouts uneducated opinions about everything. Irina seems repulsed or at least fed up with him. When he asks her how to say "I love you" in Finnish, she teaches him "Fuck off" instead. 1There's a club in Budapest called Vittula that is popular with Finnish tourists who love to take pictures of the sign. Apparently, this will be a rough ride.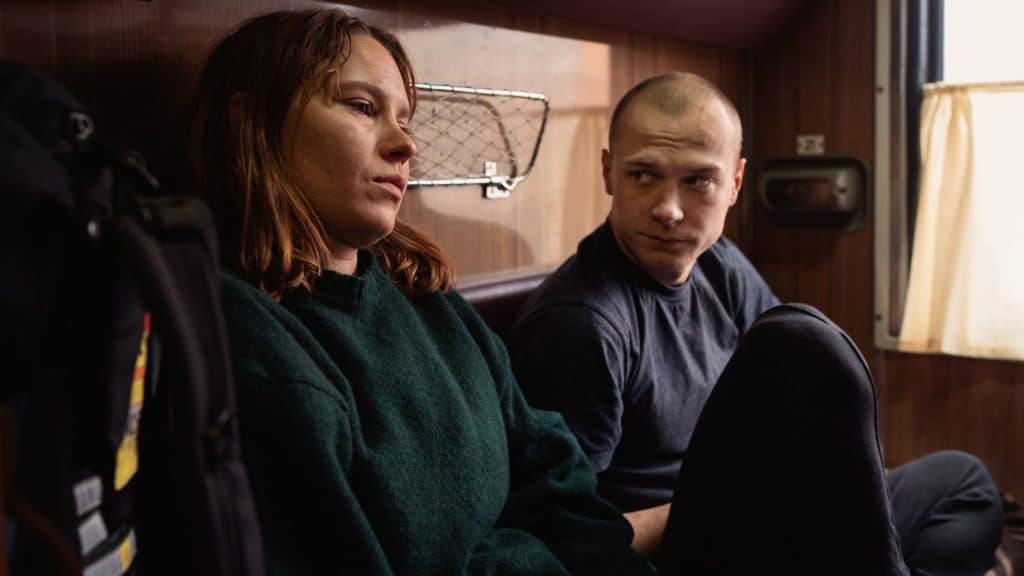 Vadim is a miner who is going to Murmansk to work. He mocks Laura and thinks it's stupid to go that far to see some petroglyphs. ( If you watch this at home, do NOT under any circumstances play a drinking game around the word petroglyph) It's difficult to imagine two people more mismatched, or is it? When a story starts out like this, I tend to be suspicious about where it's going. With this film, I didn't even think about it once since I was so enchanted by the cinematography. The DOP Jani-Petteri Passi not only creates a perfect retro feel but makes every image a joy to behold. The music works great as well, including Voyage, Voyage by Desireless.
The film and its elements are quite unassuming. The interaction between the two doesn't thread a much too-trodden path. When Laura invites a third person into the cabin, Vadim is visibly annoyed and sceptical. Still, it's not a factor that incites much drama either, except for a specific incident. In many ways, it's a relief to see a work that appears so modest but is made by a filmmaker who knows exactly what he is doing and why. Laura will learn essential things about herself during her trip, but not necessarily directly due to her interaction with Vadim, but from all of the experiences together and her ability to draw the relevant conclusions from them.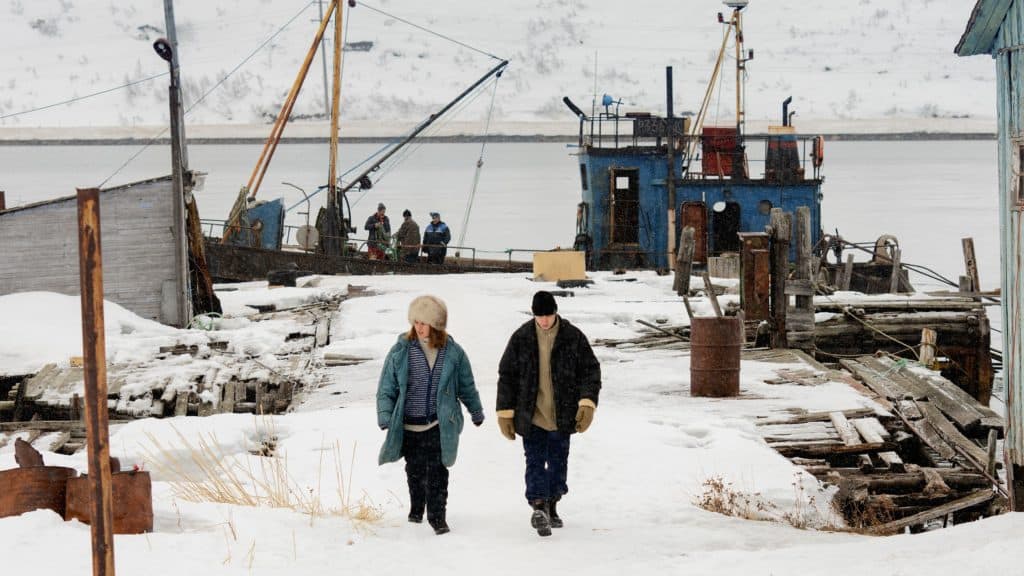 Hytti NRO 6 – Password Petroglyph
The film avoids clichés about Russians, which otherwise seems to be one of the few nationalities still up for grabs for cinematic caricature. In its own quiet manner, it displays individuals with warts and all and takes the time to get to know them, not from sudden revelation but in a more cumulative way. Both Seid Haarla and Yuriy Borisov are perfect in their respective roles. It's a film with ample qualities that are difficult to pinpoint, but it's easily one of my favourite films at the festival. With a very different film from its predecessor, Kuosmanen proves himself to be a great talent to watch out for.
It's difficult to predict if it's a film that will appeal to a festival jury, but it's a film that is sure to please the audience at several festivals during the upcoming months. After watching too many and too turgid works, a film like this is bound to feel like a breath of fresh air.