Johanna (2005) was the third feature by Kornél Mundruczó. A director who is probably most known for White God (Fehér Isten 2014) and Pieces of a Woman (2020). It's a film in the form of an opera with music by Zsófia Tallér, who sadly passed away a few weeks ago. The story is set in a hospital where the drug addict Johanna (Orsi Tóth) is admitted after an accident. She recovers in a seemingly miraculous way. A doctor offers to train her as a nurse. It turns out that she can heal patients by having sex with them. This creates animous reactions among the hospital staff for several reasons. One of them even seems to have reviewed the film.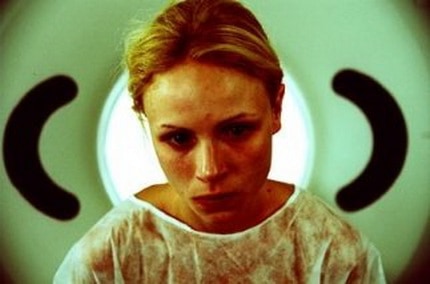 Mundruczó has worked in theatre and opera since 2003. That was when he directed The Respectful Prostitute, composed by Kamilló Lendvay and based on the story by Jean-Paul Sartre. In 2009 he founded the Proton theatre in collaboration with producer Dóra Büki. Pieces of a Woman was actually a play before it became a film. That was also the case with The Frankenstein Project, which was performed as a play in 2007 and became a film in 2010 called Tender Son-The Frankenstein Project (Szelíd Teremtés-A Frankenstein terv). When it comes to Johanna, there is a precursor in the short A 78-as Szent Johannája Johanna on the Night Bus (2003) that is the first part of the project.
Being an opera, it's not surprising that we are dealing with a highly stylised work. Most of the film takes place in a hospital, with drab colours. There are two cinematographers credited, and given the fact that they are Mátyás Erdély and András Nagy1Five years later, Nagy lensed another opera. Kasper Holten's modernised version of Don Giovanni called Juan. it would be shocking if the outcome was anything short of stunning. Not in the sense of "beautiful shots" but in the way, the lensing conjures a persistently gripping and weirdly surreal world. Mention also must be given to Steadicam operator Bálasz Révész, who lends the film a remarkable fluidity in the grim surroundings. Stylistically, it's closest to expressionism.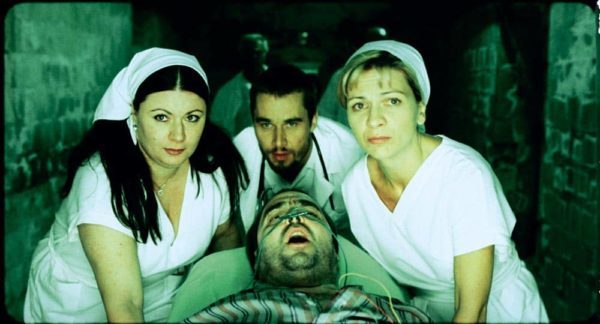 Johanna of the Arc
Labelled a modern operatic interpretation of Jeanne d'Arc by the filmmakers, the film depicts Johanna's infinite goodness and status as an outsider. Living outside conventional morality elicits strong reactions from society (the hospital staff), but she is revered by her followers (the patients), who experienced her healing powers first-hand. The fashion that it's represented by two choirs is theatrical and highly effective. As far as I know, the opera has never been performed on stage, but I would be the first to see it if it was. The muscular direction is matched by Tallér's equally powerful music. She was Mundruczó's teacher in Film school, and they collaborated frequently. This was their fifth project together.
The role of Johanna is obviously a pivotal one, and it's hard to imagine anyone else than Orsi Tóth in the part. She played the female lead in the director's second film, Pleasant Days (Szép Napok 2002) as well. Here her powerful presence in a frail package truly stands out. It's no exaggeration to state that for all the work's other qualities, the film would fall apart without a strong female lead, and Tóth really delivers on that front. Her strength shines through convincingly without her having to beat up men much bigger than herself in a woke fashion. Unlike in Juan, it's not the people we see who provide the voices, but everyone was actually singing on the set.
The director felt that it was important that the spectator would see the actors singing. Mundruczó compared the shooting to that of a music video. The script was co-written with frequent collaborator Viktória Pétranyi, and the libretto was penned by János Térey and Bálint Harcos. In the later films, Kata Wéber has been a frequent partner. Johanna was presented in Un Certain Regard at Cannes. Many of his later films have entered the main competition. Among them, Jupiter's Moon (Jupiter Holdja 2017) which was one of the Cannes jury member's favourite. However, he didn't manage to get his Will through, and the film didn't receive any prize.
It was a great experience to revisit the film after some time, and in my mind, it holds up magnificently. If the theatrical vein has always been evident throughout Mundruczó's career, this might be the work where he pulled all the stops in that regard.
The film is available on Eastern European Movies