"Close your eyes. You guys in the back, too. Don't cheat, and now visualize the letter O."
That's how Without Air (Elfogy a levegö) begins. It's the fourth film I've seen this year that, in one way or another, asks the audience to close their eyes, but the first one that is not in Spanish. The quote turns out to come from a teacher in a classroom. Ana is a teacher of literature who deploys different means to keep her class interested in the topics at hand. At the end of one class about Rimbaud, she recommends the Agnieszka Holland film Total Eclipse1Actually, a remake of the Hungarian film Teljes napfogyatkozás. for those who would like to expand on the subject. She also adds that it features famous actors like Leonardo DiCaprio and David Thewlis.
When the father of shy student Victor happens to get a glimpse of some of the film's content, he files a complaint saying that the material is unsuitable for high-school students. If anyone wonders why the school should care about this complaint, it is said that the father is "influential". This does not refer to a TikTok account but rather implies political ramifications. Meanwhile, the school is seeking funds for a project, so the situation couldn't have come at a worse time. The case escalates quickly and soon gets out of hand. There is already tension among the teachers, with one of them being particularly resentful of Ana, who is caring for her sick mother.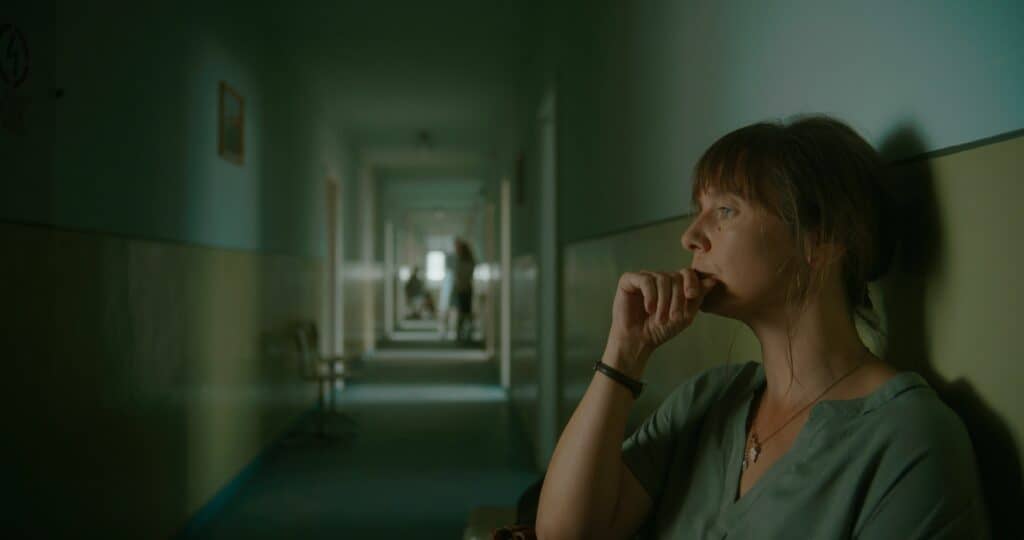 Without Air is based on a case that occurred in Romania in 2005. The teacher in question was present at the screening at the Warsaw Film Festival with the director. In some ways the film is difficult to deal with since it involuntarily points to problems in the school system which is less pronounced in the former Eastern bloc. The fact that students and their parents far too often have become customers making demands on the school rather than the other way round, and the teachers might be reduced to caring about the student's happiness rather than teaching. It's obvious in the US even at a university level, but the same thing applies to Sweden as well.
I talked to the director about this when I interviewed her, and while it's obviously not the topic of the film, the response from the spectator might be an unexpected one. At one point, Ana gets a punishment that might be seen as a slap on the wrist. She could have taken it and moved on. She goes another route which rapidly increases the problem and even angers her principal. Instead of a pragmatic approach, Ana fights for what she believes is right. She is absolutely correct in theory, but possibly the situation might have been less severe. In one scene, she teaches Ibsen's A Doll's House, but in this instance, Ana is more akin to the idealistic pastor Brand.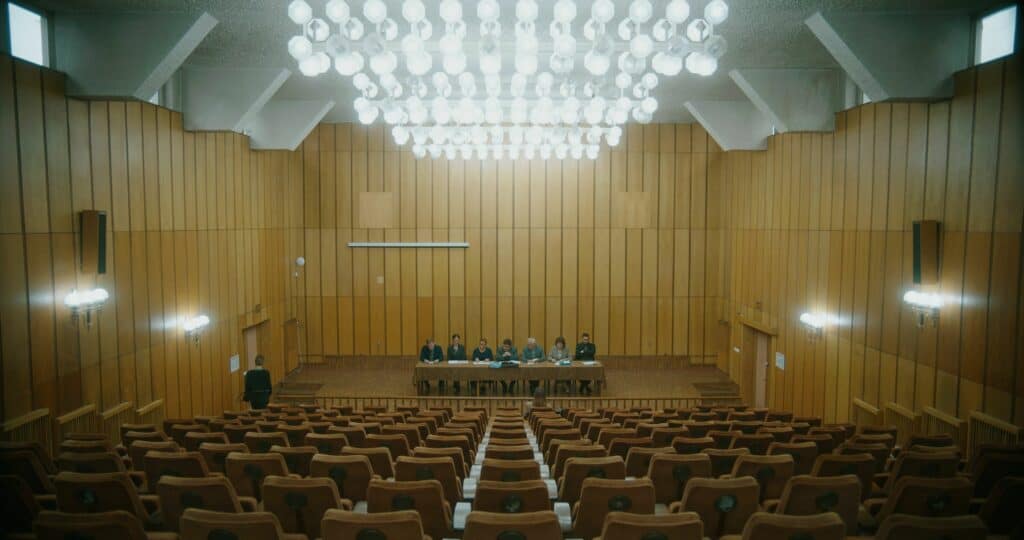 Is Ana running without air?
This is certainly not a factor that weakens the film's considerable strength. It is merely yet another way to approach this remarkably rich film. Like White Plastic Sky, it was borne out of the Hungarian Incubator programme, which implies a very limited budget. Still, Without Air is a formally controlled work which deals deftly with everything from András Táborosi's camerawork to the way it uses metaphors and figurative similarities. The scenes that depict the legal proceedings are more stern and stationary while scenes between Ana and her students, not least Victor, are more fluid with circular movements. The film's original title literally means "I'm running out of air" which is an apt description of Ana's struggle.
When it comes to visual cues, one example will suffice. In an early scene, a stuffed bear is prominently carried in front of Ana in the school. Later, when she pays an unannounced visit to Victor's father, he has a bearskin rug on the floor of his apartment. The image is open for interpretation, and doesn't necessarily have to do with R.M.N (2022). The acting is uniformly strong, but it would be impossible not to single out Ágnes Krasznahorkai's compelling, yet subtle interpretation of Ana. The use of sound is absorbing as well, no pun intended. The director worked with the writer Zita Palóczi already on her short Ahogy eddig (2018), and the script adds to the film's many virtues.
In the challenging climate that is the Hungarian cinematic landscape today, it is a pleasure to behold such a mature debut. I will follow Katalin Moldovai with great interest, and hope that she will be able to realise a new project sooner rather than later.