Today, the official selection of this year's Cannes film festival was announced. Two Hungarian films were among the selected films. In the competition, Ildikó Enyedi's The Story of My Wife (A feleségem története) based on Milan Füst's titular novel. It's the story of a sea captain who makes a bet in a café to marry the first woman who enters the place. Then a woman named Lizzy comes in. It's been a favourite novel of the director since her teenage years. This will be her first film in English, and in the cast, we will see Gijs Naber, Léa Seydoux and Louis Garrel. Enyedi's latest film was the Golden Bear winner On Body and Soul (Teströl és Lélekröl 2017)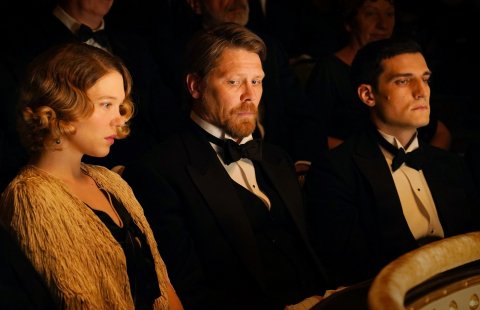 The return of Kórnel Mundruczó
Kornél Mundruczó has been to Cannes several times. Johanna was screened in Un Certain Regard in 2005. Since then, four of his films have been presented at the festival. Three of them appeared in the competition. Jupiter's Moon (Jupiter Holdja 2017 would have won the Palme d'Or if Will Smith had been able to clone himself. This year Mundruczó is back with Evolution. It's based on a Proton theatre performance, which in its turn is based on György Ligeti's Requiem. In the leading roles, we see veteran actress Lili Monori and Annamária Láng. There is not so much information about the film yet, but it deals with the story of three generations.
Evolution will be presented in a new non-competitive section called Cannes Première. Supposedly that part of the festival differs from the Out of Competition section by the fact that it includes directors who have been to Cannes before. That is certainly true about Arnaud Desplechin (Deception), Andrea Arnold (Cow) and Mathieu Amalric (Hold Me Tight), but it doesn't apply to Charlotte Gainsbourg, at least not as a director. When asked about the difference between the two segments in Indiewire, Thierry Fremaux answered, "It's in Debussy Theater, so the spirit is not the same as Lumiere. It's really like, "Hey, I'm here, I'm a filmmaker, here is my film." That explains the difference perfectly.
There are some non-Hungarian films in this year's selection as well. Possible highlights in the competition include the opening film musical, Anette by Léos Carax, with music by Sparks, Benedetta by Paul Verhoeven and Compartment no. 6 (Hytti nro 6) by Juho Kuosmanen, who presented the wonderful The Happiest Day in the Life of Olli Mäki (Hymyilevä Mies) in Un Certain Regard 2017, Judging from the titles, it's an unusually strong year. In Un Certain Regard, there are films by Alexey German Jr, Hasan Semih Kaplanoglu and Eskil Vogt. The Quinzaine des Réalisateurs selection will be presented on Tuesday 8th of June.
If the Hungarian films at Cannes are not enough to entice the spectator, there are other compelling reasons to visit the festival as well.