There will be some spoilers for The Lost Daughter in this review.
Peter Greenaway's A Zed and Two Noughts, known as ZOO with an untranslatable pun, commences with a scene of a car crash. Apparently, the car collided with a swan. On the police radio, one end of a conversation can be heard " A swan? What sort of a swan? Leda, who is Leda? Is she the injured woman? Laid by whom? By Jupiter? Was that the cause of death? A female swan. How do you know it was female? Eggs, eggbound? Was it gold? I thought it was a ghost. Did she come from the zoo?" This scene came to my mind while watching The Lost Daughter, where the leading character is called Leda and goes on a holiday to Greece.
The Lost Daughter is the first directorial effort by actress Maggie Gyllenhaal, who also wrote the screenplay based on the novel by an anonymous writer named Elena Ferrante, who has penned several bestsellers. Leda (Olivia Colman) is a professor of Comparative literature. During her holiday in the Ionian islands, she encounters a group of people on the beach. Among them is Nina (Dakota Johnson), who has a daughter. and her sister-in-law Callie (Dagmara Dominczyk), who is pregnant. Even if Callie is the one who actively approaches Leda, it's the meeting with Nina and her daughter Elena that sparks emotions within Leda. In particular when Elena suddenly goes missing.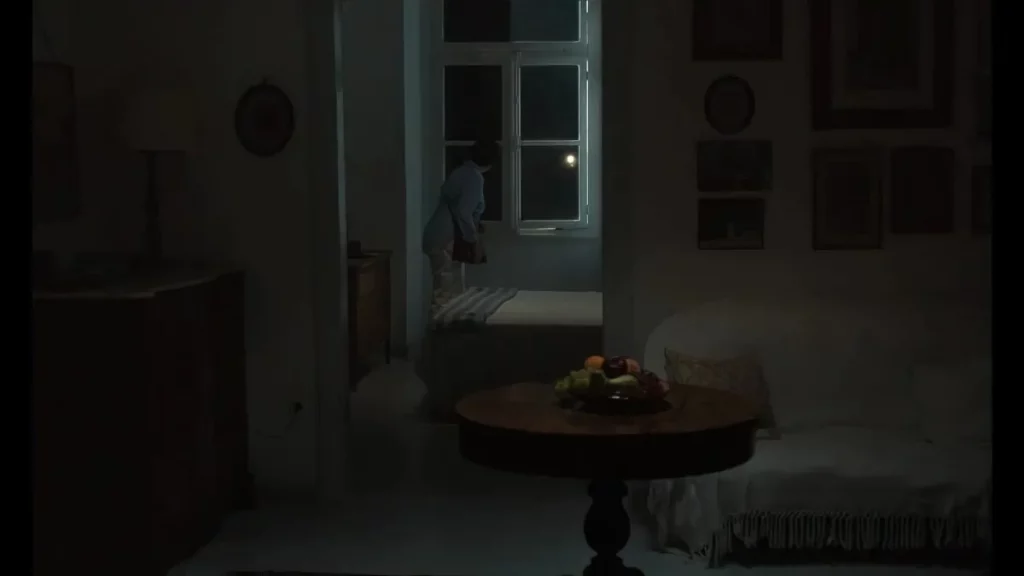 The thing is that Leda has two daughters of her own who she didn't bring to Greece, and that's not the first time that she left them behind. Seeing Nina and Elena provokes memories from the past, which will come crashing in throughout the film. There will be what is usually referred to as flashbacks to a younger Leda (Jessie Buckley) and her tribulations with balancing her role as a mother with her academic career. The question is if the scenes of young Leda illuminate who she is in the present time, and that is not the only question that the spectator is left with during the film. All these factors point towards a challenging, complex work, or does it?
That this is an ambitious film can be felt from the very beginning. Most critics seem to think that the ambitions were fulfilled in the final film. The Lost Daughter currently has a Rotten Tomatoes score of 95%. Many reviews express admiration simply for tackling the subject matter of motherhood with its ups and downs. When the pregnant Callie brings Leda a piece of cake, the latter suddenly says, "Children are a crushing responsibility", following up with "Happy birthday", and then walks away. The first of many awkward interactions that Leda has during her holiday. A pine cone falls on Leda's back in the next scene, leaving a mark that wouldn't be out of place in a horror film.
The Horror of The Lost Daughter
The horror elements in the film will be pretty frequent. The film is a Netflix production, but the spectator would be excused to mistake it for a FOX Searchlight film, seeing the ominous lighthouse shine into Leda's apartment. In combination with the foghorn, the effect is not subtle. On top of that, the fruit in the fruit bowl is rotten, and then we haven't even mentioned the dolls yet. When Elena goes missing, it's Leda who finds her, but at the same time, she steals her beloved doll. Yet another object that brings back memories since Leda gave her own doll to her daughter but threw it out the window in anger after she didn't take care of it.
Elena Ferrante is Italian, and there were more than once when I thought of Argento's giallos. Gyllenhaal refers to one scene where she claims they were "playing with horror elements", but the most horrific component in the film is the lack of subtlety. When a worm creeps out of the mouth of Elena's doll, it's difficult not to sigh in disbelief. With all these horror elements in mind, do they accumulate tension rather than being single moments? Alas, no, and that is not to say that the film never Colmanates on a narrative level, which would be fine, but even more so cinematically.
Several components are as crude as the horror-like scenes already mentioned. As if the fact that someone named Leda is in Greece is not clear enough, during the introduction, Nina mishears her name and says, "Neda?" which forces Leda to repeat her name. There is no surprise when Yeats' poem Leda and the Swan becomes somewhat significant in one of the flashbacks, including a professor played by the director's husband, Peter Sarsgaard. Leda's husband, who she leaves with the kids, is no Jupiter, though. We see him unable to satisfy Leda sexually in one scene, and he seems to have left the responsibility of the children to Leda.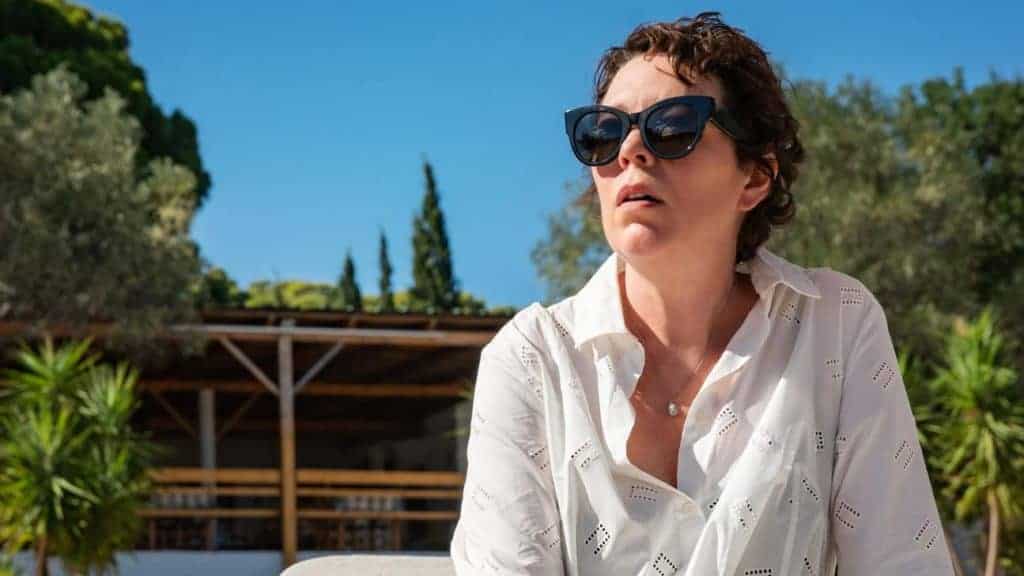 The past is a foreign country: they do things differently there

L.B Hartley The Go-Between
I haven't read the novel, but I've learned it was written as a first-person narrative. Thus there are numerous things to consider while adapting the story into a film, but above all, there has to be a conscious cinematic form. Whatever choices are made have to be consistent and with a clear goal. Gyllenhaal mentions several great filmmakers in interviews, like Antonioni and others but says she aimed to depict women in a less perfect fashion. The film is reminiscent of Joseph Losey's collaborations with Harold Pinter (especially Accident 1967) or some films by Alain Resnais. The big difference is that these directors were formally aware, which resulted in a cohesive experience that would hold up over time.
The director that comes to mind is rather Robert Altman, at his most vague, in films like the muddled psychodrama Images (1972) or the hazy 3 Women. (1977). Those films and many like them are fuzzy not only at the edges but over the whole picture. In lieu of complexity, we're stuck with ambiguity which mostly displayed the films' lack of a lucid structure. Resnais is often quoted (by me, anyway) that he wanted every piece of his films to be as clear as possible, but how the pieces fit together was the complex part. That kind of clarity is clearly absent in The Lost Daughter.
Gyllenhaal's film has many outstanding elements. Olivia Colman and Jessie Buckley are both excellent in their performances. The question is how much they have in common. Occasionally, they come off as two different characters, which could be potentially interesting if it was part of an overall plan, which seems to be lacking. When everyone tells present Leda how beautiful she is and that they thought her age was under 40, it's obviously a subjective depiction from Leda's warped mind. Still, it's another aspect that is not explored. Are we dealing with free indirect subjectivity as described by Pasolini? 1Pier Paolo Pasolini has his centenary in 2022 Who knows? Not the spectator, and maybe not the writer/director either.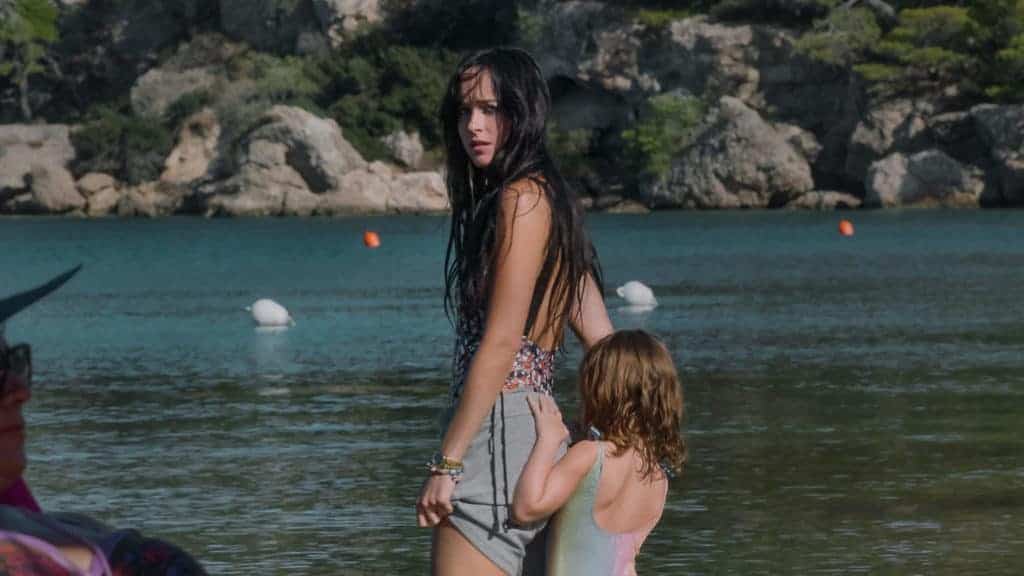 Hélène Louvart is one of the greatest cinematographers working today, not only in Todos os mortos but in virtually everything she is part of. Here, the lensing too often seems to do little more than serve the narrative. Once again, a stark contrast to Resnais or Greenaway, who used Sacha Vierny's cinematography to great effect in the aforementioned ZOO. In an early scene between Leda and the caretaker Lyle (Ed Harris), they talk about the apartment, and Lyle says, "It's a great apartment. It feels like you're on a boat, almost". That is an apt description of the film that feels like a rickety boat lost at sea, albeit a beautiful boat and a splendid sea.
The Lost Daughter is far more ambitious than Nightmare Alley, but the films share the same lack of cinematic coherence. It's difficult to tell if the spectator's interest mirrored the critics' raves since Netflix chose to present the film in cinemas in some areas, whereas it opened on Netflix in December in other locations. Even though the film is seriously flawed, it might be interesting to follow Gyllenhaal in the future, hopefully collaborating with a scriptwriter who shares her vision but can offer valuable insight from another perspective.