There was no lack of French films during this year's Cannes festival. I have already covered Annette and Bergman Island among the competition films, as well as Robuste in Semaine de la Critique. Now it's time to look at some of the other films to discern where French cinema stands. Will the worrying signs of Mia Hansen-Løwe's film be the norm? The first film didn't soothe anyone. Francois Ozon is back with yet another film. This time it's a drama about euthanasia called Everything Went Fine (Tout s'est bien Passé). André 85 suffers a stroke and wishes to die. His daughters Emmanuèle (Sophie Marceau) and Pascale (Géraldine Pailhas) will have to handle the practical necessities.
It's a film that Francois Truffaut might have labelled a scriptwriter's film. It's based on the novel by Ozon confidante, Emmanuèle Bernheim, and it's a script that treats the matter in a sober and even-handed fashion. It's well-directed, well-written and well-acted. Is it compelling or even engaging? Well, not really. Just like in Grâce à Dieu (2018), Ozon delivers an earnest, well-intended film that is dead on arrival. There is no cinematic flavour in the film at all, and it would work just as well as a radio play. When it finally comes to an end, the feeling of relief makes you feel more alive.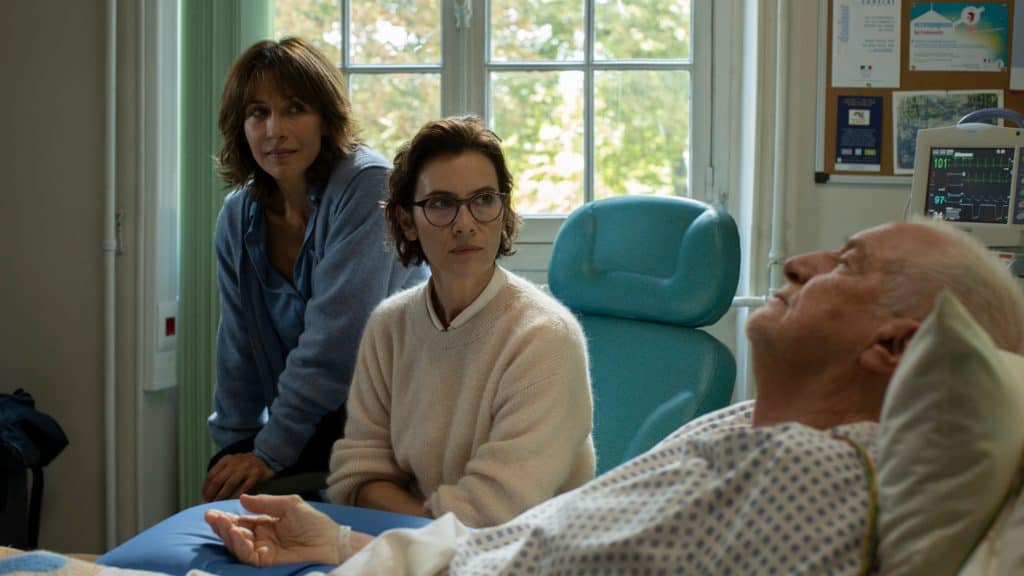 A Titan of French Cinema?
Things would get even worse. Fond memories of Bruno Dumont's early films have been wiped away by recent works like P'tit Quinquin (2014), but above all, the horrendous Ma Loute (2016). After a run of Jeanne d'Arc films, he returned to the competition with France. The name refers to the main character (Léa Seydoux), a journalist called France de Meurs. She goes around her work staging stuff as reporters do when suddenly her life is overturned by a car accident. It's difficult to convey in words how glib and obvious Dumont's attempt at satire is. Suffice to say that I will think at least twice before I see another Dumont film, even if it is Jeanne d'Arc vs Kong.
I'm not sure which of the above characters, Alexia, the lead character in Titane, is closest to. Thespian Agathe Rousselle wouldn't be out of place in a Jeanne d'Arc film. After a car accident, Alexia has a titanium plate fitted in her head. The doctor warns the father (Bertrand Bonello) to watch out for neurological disorders. So the spectator is left to ponder whether there might be any such disorders visible during the film. Lo and behold, there will be. Who might have guessed from that conversation? That is the level of subtlety this film will revel in. It will soon be apparent that she has a taste for metal and is a Queen with a feel for her automobile.
Good Luck Banging and Metal Porn
Following some outbursts of violence, Agathe will hide from the police, posing as a boy. After noticing some wanted poster of a missing boy, she decides to pose as that boy, to the delight of the boy's father, Vincent (Vincent Lindon), who now has his long lost son back. The implausibilities of the plotline is not an inherent problem. It's evident that these two characters are trying to fill each other's void in life, and Vincent is not interested in asking any questions that might make the setup fall apart. The problem of the films lies elsewhere, or literally everywhere. For all the noise and Cronenbergian metal banging, there's not much going on here.
Cinematically it's pretty drab with few memorable images. It's pretty incoherent as well and comes across as two or three different films that don't create any synergy effects. It's not necessarily a terrible film, but rather generic and ultimately forgettable. After the screening, a man next to me said, "C'est un film pour Mylène Farmer." He was referring to one of the jury members, and the film ended up winning an award (The Palme de Titane) which wasn't that surprising. After the screening, I was utterly blindsided by the critics' rave reactions that started pouring in on social media. A cynical person might chalk it up to the fact that Julia Ducornau is a 37-year-old female director.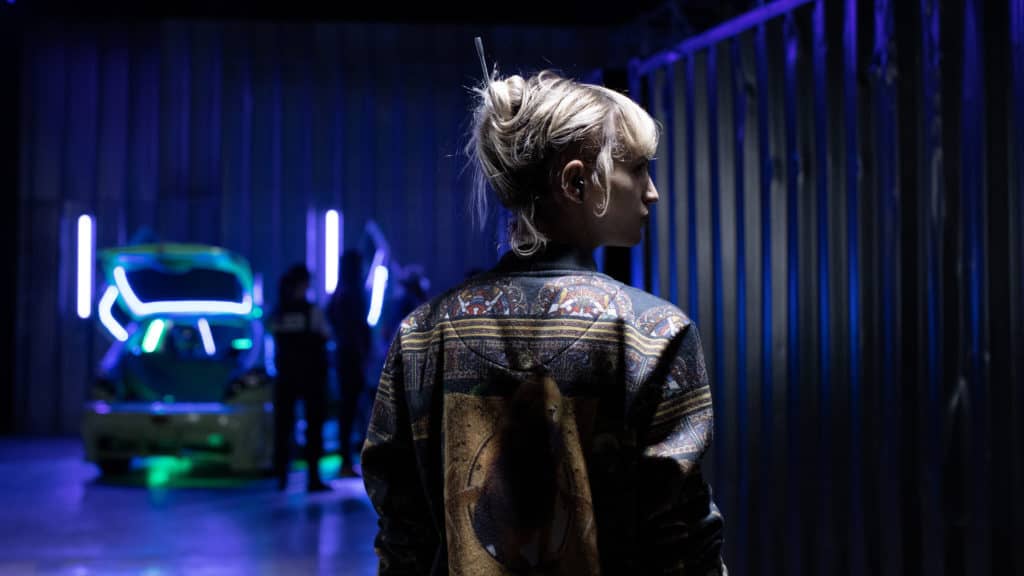 Arnaud Desplechin and Jaques Audiard have had similar career trajectories. At least in the sense that their early works were very successful, but recently they had more trouble delivering consistent quality. Audiard made great films like Sur mes Lèvres (2001) and De battre mon coeur s'est arrêté (2005). Then something happened with works like De rouille et d'os (2012) and Dheepan (2015). The latter was so mediocre that it ended up winning the Palme d'Or. Now he was back in competition with a film called Les Olympiades in France and Paris,13th District in Les pays Extérieurs. Since Audiard is an anglophile (like Carax), it's not surprising that the film has its roots in graphic novels by Adrian Tomine.
There are a bunch of interconnecting stories in Audiard's film. Émilie is looking for a roommate. Camille answers her ad but is a man, to Émilie's surprise. She accepts him anyway. Camille is attracted to Nora, who works in real estate. Or that is what she has to resort to after being bullied by her law student classmates since he is being confused with a cam girl called Amber Sweet. Audiard shoots the film largely in black & white, and he stays close to the characters. It's an intimate film as well, filled with copious nudity and sex scenes. The script was co-written with Léa Mysius and Céline Sciamma, who I prefer as a writer rather than a director.
The film ticks along reasonably well, without being groundbreaking in any way. I don't know how imperative Mysius and Sciamma's contributions were to the script, but the affair never feels stale or obsolete. It definitely was in the top tier of the competition films.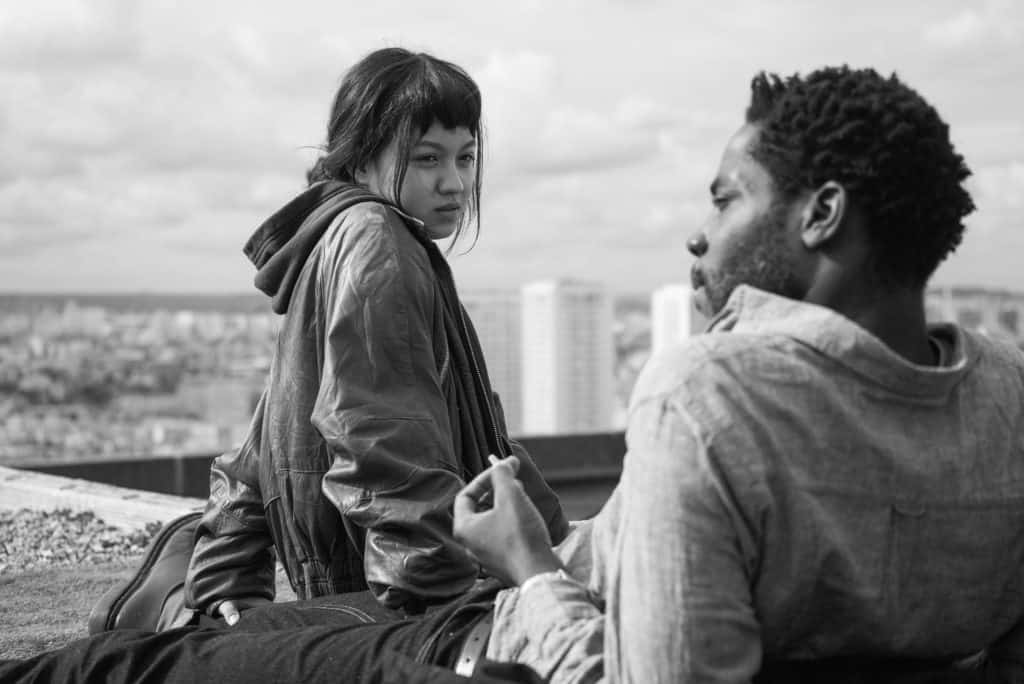 The non-romantic Englishwoman
Tromperie By Desplechin was presented in the new Premieres section. It's an adaptation of Philip Roth's novel Deception which I haven't read. It's about the writer Philip who is married but has an English mistress (Léa Seydoux). It is a modest film shot during the pandemic. My expectations were not high at all, but I was pleasantly surprised. It is not a film that can be compared to the director's early, masterful films, but it's pleasant enough, and Léa Seydoux is a major asset. I'm not sure that the same can be said about Denis Podalydès (who also appeared in Anaïs in Love, playing in Semaine de la Critique). Not essential, but enjoyable, buoyed by Yorick Le Saux's lensing.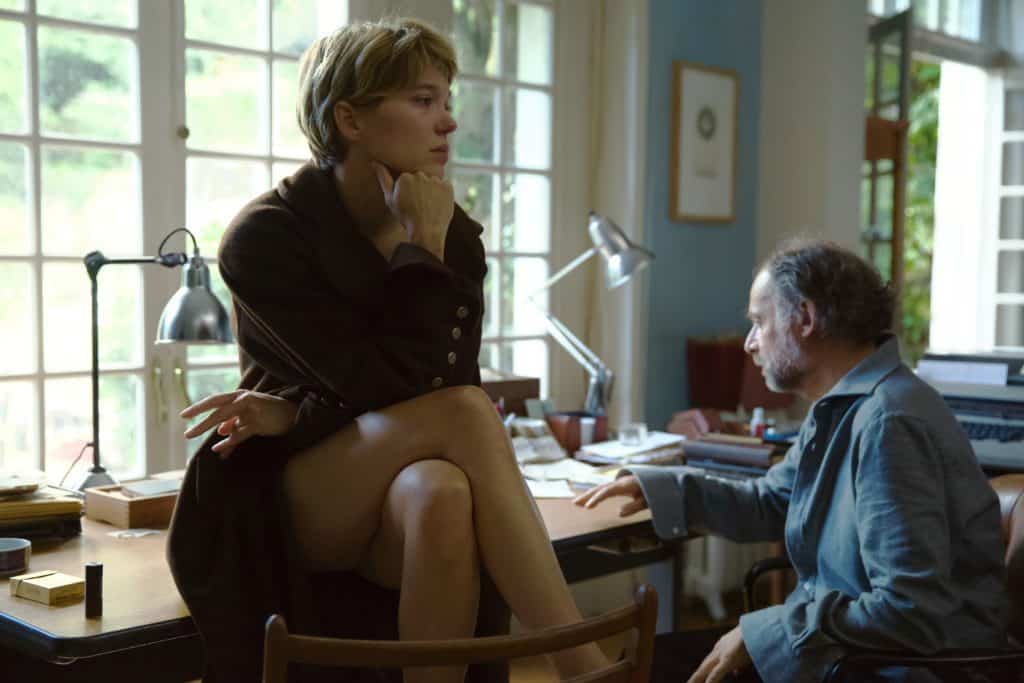 The State of French Cinema
The French films presented in Cannes raises serious questions about the quality of recent French cinema. Or is it rather the "Quality cinema" that is the problem?1 Quoting Truffaut once again. If one adds Benoit Jacquot's Suzanna Andler to the mix presented in Rotterdam, the crisis seems more than imminent. Some directors seem to be able to make films constantly, based on their pedigree (Ozon, Jacquot), and younger directors don't present much cinematic innovation either. A true talent like Carax makes films very irregularly. His director's award in Cannes was more than welcome, but it still seems like there is very uncertain regard at work in French cinema.